10 best software for interior design
6 min read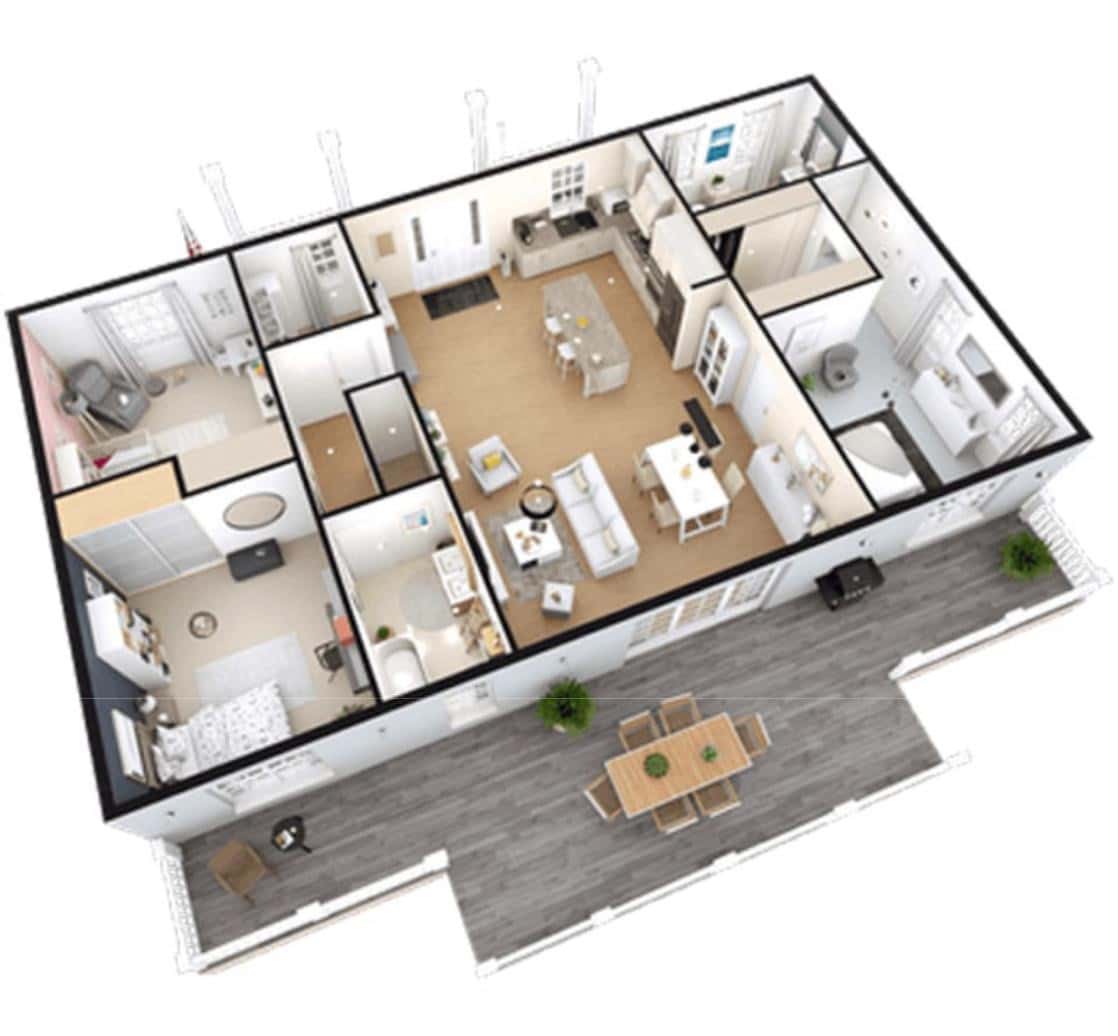 Whether you run a 200-person company or are a solopreneur, using the best interior design software may help you thrive. The right application or app may boost performance and streamline corporate procedures. Since everyone realizes that designers, customers, and suppliers work best together, it's only natural to want to coordinate your backstage work as well. Yet, there is no such thing as the best interior design software. Interior design software may focus on room design, image editing, project management, or larger or smaller businesses. In this post, we will show you the finest interior design apps and tools for decorators.
10 Best Software for Interior Design
Infurnia, as a cloud-native design platform, enables architects, interior designers, clients, and suppliers to communicate and engage with one another throughout the design process. Detailed floor plans with multilayered walls, sophisticated tiling and roofing, fake ceilings, and customizable cabinet tools are provided to assist you in describing your ideas in depth. Moreover, 2D blueprints can be rapidly transformed into exact 3D representations, and you can use drawing tools to add doors, windows, and beams to fit your client's site.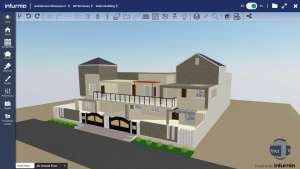 Decorate with furniture from the catalogs of Infurnia's partners, or construct your library of materials, wallpapers, hardware, appliances, furnishings, and more. Although Infurnia's software is less sophisticated than other solutions, it is simple to understand and use, allowing you to personalize your designs. Professional membership is free; however, Business and Enterprise memberships cost $50 monthly.
SelfCAD
SelfCAD is a 3D model maker that is easy to use and you can use it to create both simple and complex interior designs. It also has tools for making 2D and 3D floor plans. SelfCAD is an all-in-one 3D modeling and printing program with an intuitive interface and a wide selection of capabilities for both beginners and pros. It allows users to create, model, sculpt, slice, and print 3D items in a streamlined process. SelfCAD's interface is one of its numerous strengths, allowing users to rapidly and simply design 3D models without previous knowledge.
The program includes a variety of design tools like freehand sketching, form generators, and text generation to assist users in bringing their ideas to life. It also provides different price options, including a free plan, to accommodate customers' demands and budgets.
3DS Max
3DS Max is a 3D modeling and rendering program famous in the entertainment industry. Despite its appeal in the entertainment industry, it is also suitable for interior design. It enables designers to create realistic simulations of environments and objects and contains a variety of lighting, texturing, and animation capabilities. Customers can examine your proposed work in incredible detail thanks to Autodesk 3DS Max. Interior design software looks excellent with 3D animations, models, games, and pictures. With the tool sets, create elaborate representations. When working, users may get exact and detailed previews because of the integrated, interactive Arnold renderer.
Revit
Do you need interior design software to take you from idea to completion? Revit by Autodesk is the perfect answer. Revit will generate building information modeling (BIM) with your conceptual design so that your MEPs, structural engineers, and construction team can stick to a schedule. It alters floor plans, elevations, and sections automatically and generates 3D representations of a project before construction. In addition to appealing modeling and visuals, Revit stresses multidisciplinary cooperation. Revit connects cloud-based teams with BIM 360 Design work sharing for improved collaboration without involving IT.
Chief Architect is a 3D architectural design program for architects, builders, and interior designers. It offers an all-in-one solution for developing building designs, blueprints, and models. Chief Architect's capacity to create precise and accurate floor plans, elevations, and cross-sections of buildings is one of its characteristics. Users may build 2D and 3D interior and outdoor designs and see them from various angles and views. The program includes tools for designing walls, doors, windows, roofs, and other structural components, as well as adding features like lighting, textures, and materials.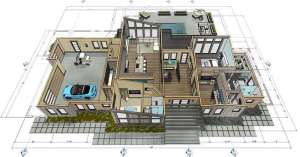 Users may add elements like shadows, reflections, and textures to their models using the software's powerful rendering capabilities, resulting in high-quality visualizations that can assist customers in better comprehending the design. The program is popular among architects and designers due to its simplicity and feature set.
3D Live Home Pro
You can rapidly construct exact plans and decorate rooms—or a whole building—with Living Home 3D Pro. After 2D plans are created (by importing and tracing blueprints or drawing from scratch), the program automatically converts them to 3D. You may also use the platform's new split mode to see your 2D and 3D models side by side. Drawing tools, elevation views, a materials library with hundreds of furniture and appliances, and customizable materials and lighting editors are available in the desktop edition (for Mac or Windows). Plans and videos may also be saved and shared in multiple file formats.
SketchUp
The modeling program in SketchUp Pro enables designers to create passive buildings and contemporary furniture. To bring your vision to life, create scaled 2D drawings and use distinctive styles and materials. This design application integrates with virtual reality devices such as Microsoft HoloLens, HTC Vive, and Oculus, allowing you to walk buyers through a project. SketchUp provides an online tool, unlimited cloud storage, and a desktop client for storage, collaboration, and sharing.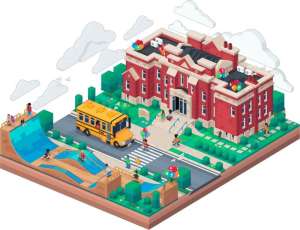 To predict performance and fulfill objectives, designers may use the application to review building data and analyze projected energy use, daylighting, occupant thermal comfort, and HVAC. SketchUp Pro creates a report after rendering to keep stakeholders informed. SketchUp Pro costs $269 per year; however, a free web-based version is available.
Easyhome Homestyler is the ideal design program if you need a basic tool to shape your ideas. This tool simplifies the creation of 2D and 3D floor plans with precise proportions. When you've mastered the fundamentals, visit the Homestyler library to add hundreds of authentic items like paint, flooring, furniture, paintings, and more to your representation.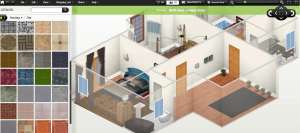 Your items will be drawn at a 1:1 scale in your design. Homestyler will also generate a photo-realistic panoramic image with a matching iOS and Android app, which you can create on the go. The basic platform is free, but you may upgrade to a premium version to access more powerful capabilities. If you're starting an interior design company on a tight budget, Homestyler is your best choice.
Designers may use Adobe's Substance 3D suite to develop and apply precise digital textures and materials. Substance Source, Adobe's high-end 3D materials library, contains hundreds of high-quality PBR (physical-based rendering) materials such as textiles, tiles, floors, woods, stone, and more. Designers and architects may use Substance Alchemist to manage texture collections. Combine or create new materials using your images and high-resolution scans. The 3D texturing suite from Substance is best suited for extensive reference work. This application works nicely in conjunction with Adobe Creative Cloud and other platforms.
Morpholio
Morpholio's products, developed by a team of architects-turned-software developers, offer digital tools for drawing, journaling, and presenting creative work. Morpholio split its famous room design software—available for iOS smartphones and Mac desktops—into three independent organizations in 2021. Morpholio Board links to your Pinterest, enabling you to build unique boards, and offers a plethora of colors and furniture ideas. The Board Pro option on the platform includes Automatic Visual Assembly (AVA) to help you traverse the creative process easier. Morpholio Trace provides a simplified creative experience, including a portable 3D viewer, quick scaling, and an AR perspective finder.
Each software has advantages and disadvantages, and your requirements and preferences will determine the ideal one for you. We propose you experiment with a few different software applications before settling on one.
Conclusion
Several interior design software applications are available, each with its features and advantages. Some are aimed at expert designers, while others are more approachable to DIY enthusiasts. SelfCAD is a remarkably flexible alternative, with a robust range of tools for 3D modeling and printing, as well as interior design-specific capabilities. Finally, the finest interior design software for you will be determined by your demands and ability level; therefore, it is advised that you experiment with a few different possibilities before making a final selection.