10 ways I balance practicality and style in a kitchen when I'm designing
7 min read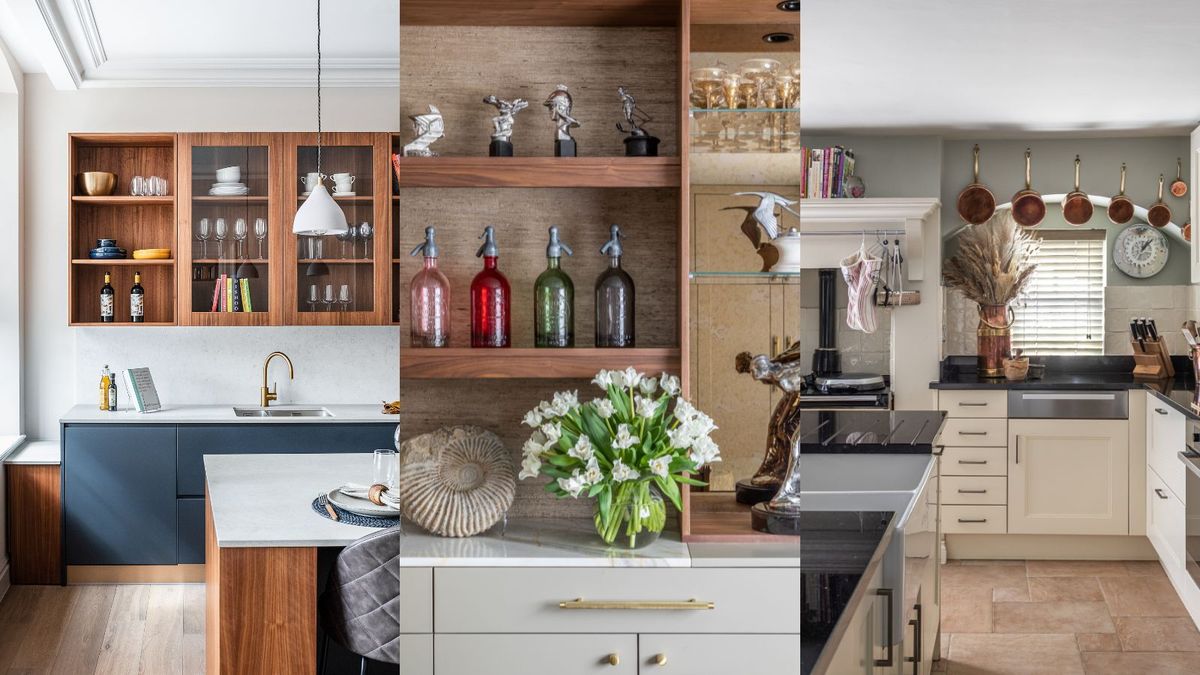 A kitchen should always be practical but this doesn't mean it can't be stylish too. The kitchen is traditionally the most functional space in the home, a hive of activity and hub for families to congregate in during the course of the day. 
It is therefore important to choose kitchen ideas that create the harmony between a consistently high-functioning yet welcoming space. 
Follow these simple guidelines and you can achieve the perfect balance.
Rosie Ward is the Creative Director at Ward & Co., the London-based interior design firm founder by her mother, Sarah Ward, in 1986. As part of the award-winning studio that develops both residential and commercial projects, Rosie designs kitchens that are functional but fabulous.
1. Consider your family lifestyle and end kitchen user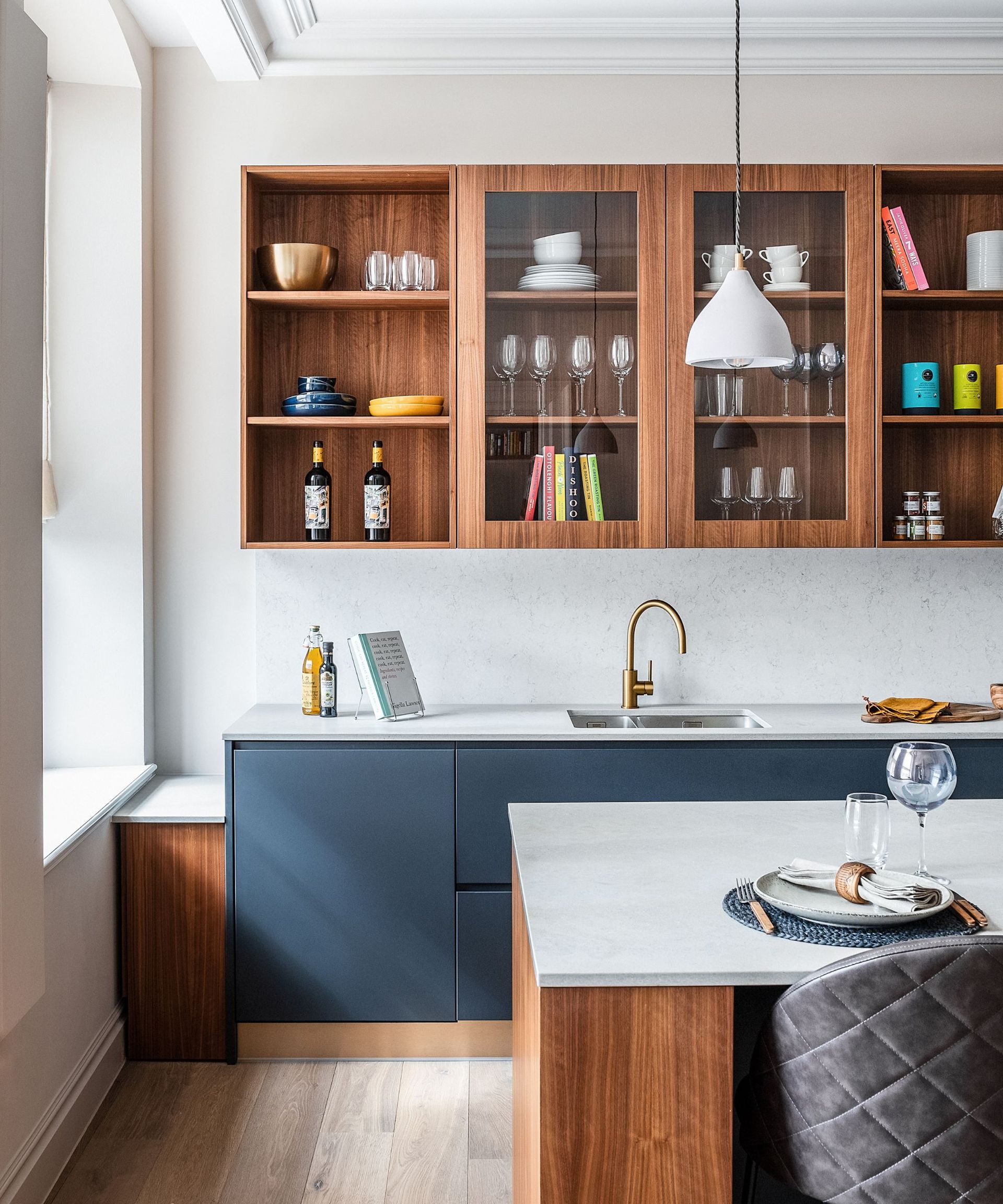 What we love about designing a kitchen is that no two projects are exactly the same. The end user influences the entire kitchen layout and design of a kitchen, as the practicalities and style are chosen based on how they intend on using the space. 
Perhaps they are an individual who loves to host and is looking for a show kitchen to wow their guests and therefore needs a separate prep kitchen, or a future The Great British Baking Show star requiring all the gadgets to deliver the perfect soufflé. 
Similarly, if your kitchen needs to double up as a kids' schoolwork or kitchen diner, that needs to be taken into consideration too.
2. Start with the basics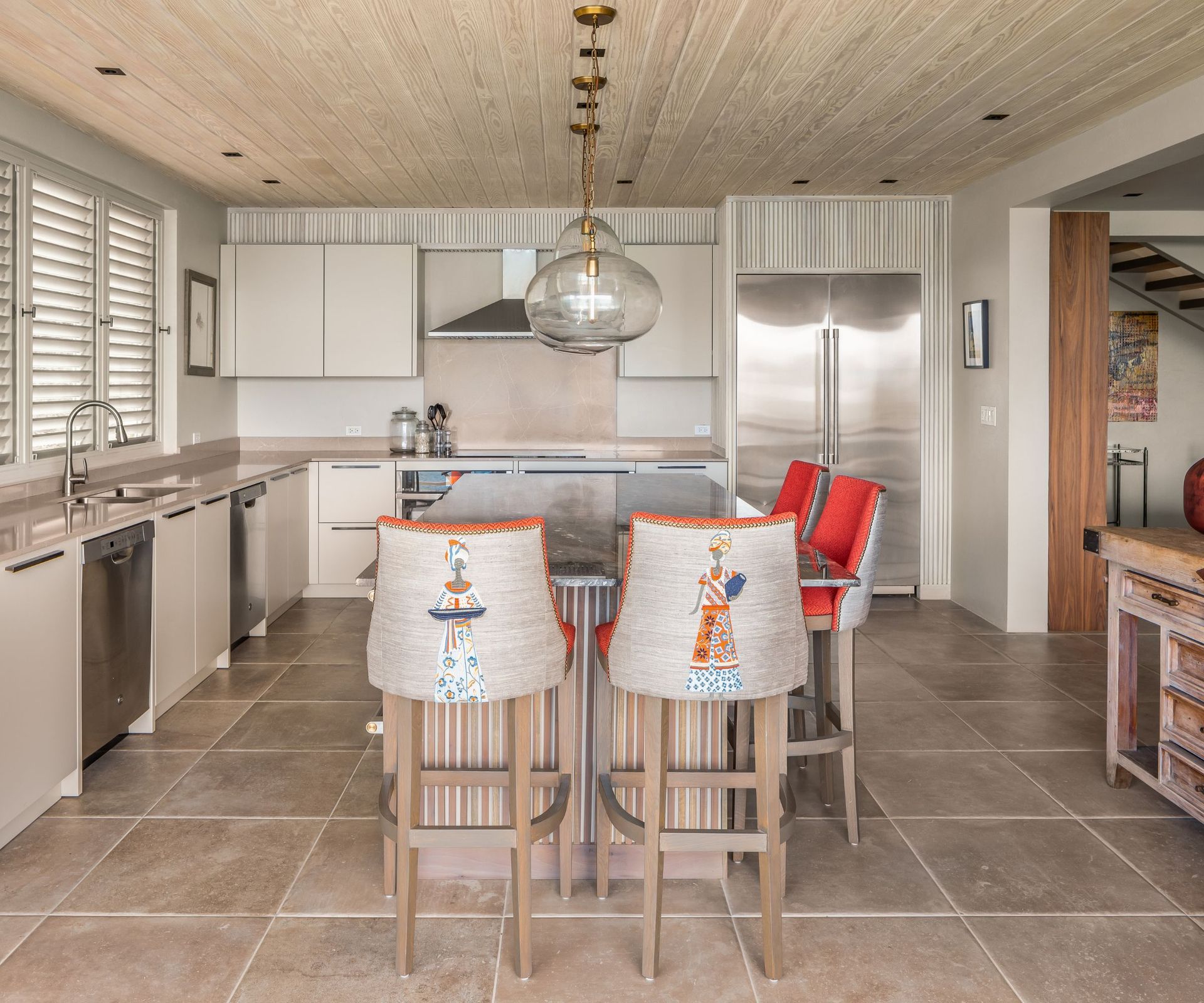 There are a few basic elements that we incorporate into all kitchen designs, mainly centered around efficiency of appliances and task management. 
A good layout should work harmoniously, putting everything at your fingertips for easy and hassle free living. 
For example, we advise placing the dishwasher nearer the hob and dining areas so you don't have to walk too far with dirty plates and pans. The fridge should also be near the kitchen entrance door and food prep surface but never next to the oven due to additional energy-loss, and never put pull-out appliances in a corner as it will block the cabinet next to it.
3. Invest in an island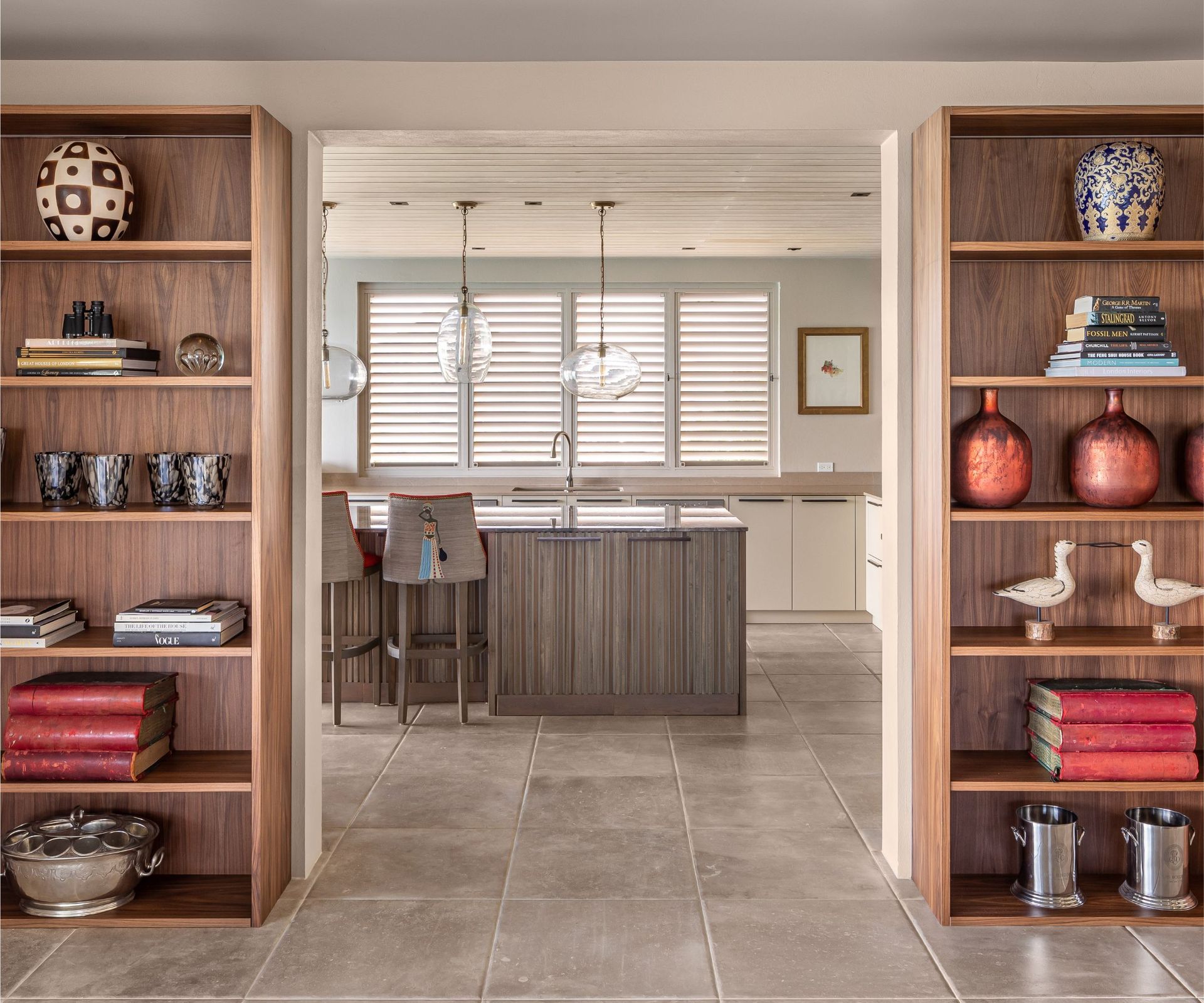 If you have plenty of space, invest in a kitchen island. They provide plenty of additional space and can be accessed from all sides, maximizing your cooking space whilst making a kitchen more sociable if you add in kitchen island seating. 
This multi-faceted space can double up as a breakfast bar, coffee/laptop station or display center for freshly baked items. If space is at a premium, consider a slimline option – for example, IKEA sells some fantastic trolley-style units to work with smaller budgets; these portable islands can be moved around the room when needed.
4. Storage, storage, storage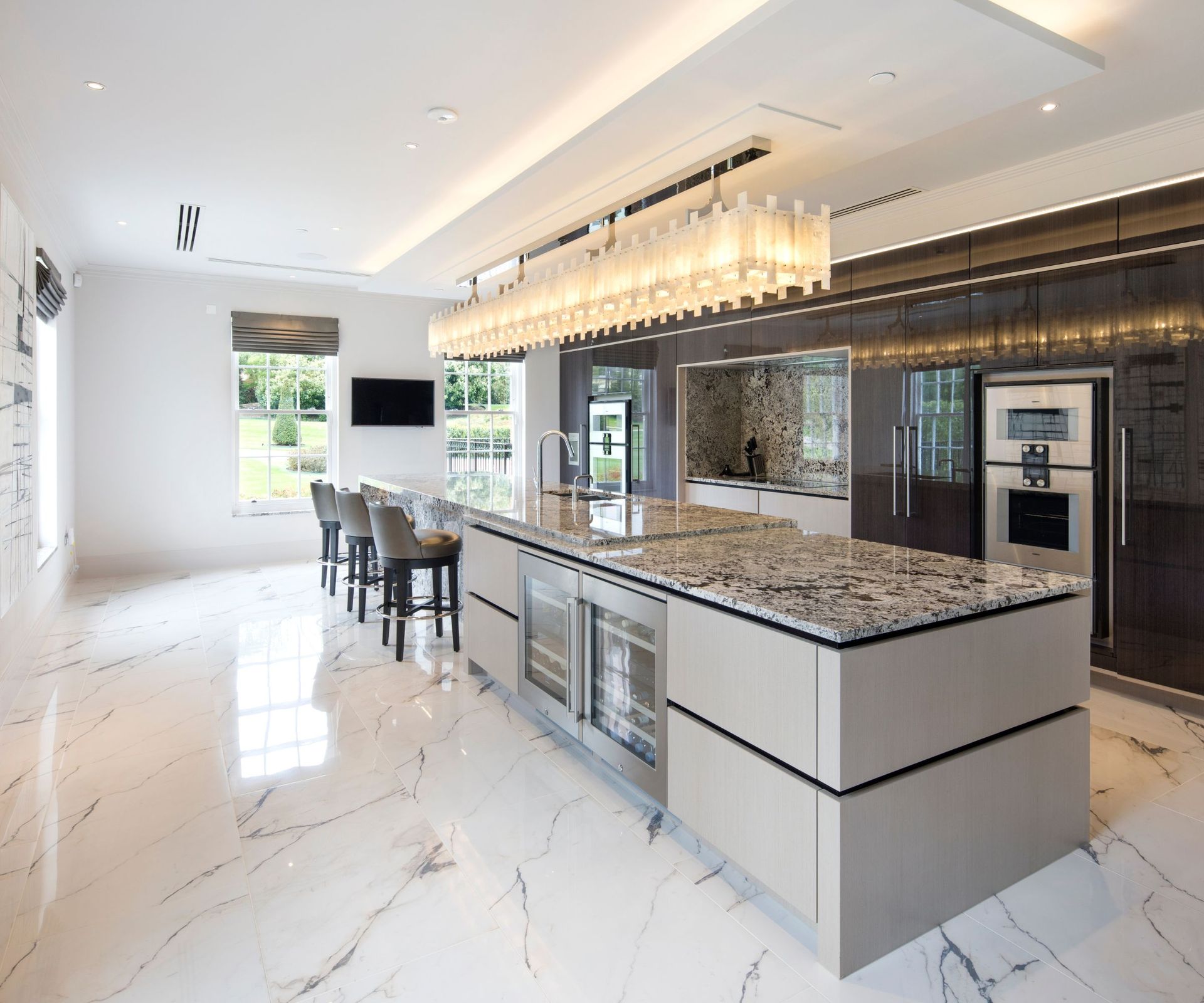 There is nothing more frustrating than not having enough kitchen storage ideas! There are so many ways to incorporate stylish but practical necessities, from cupboards finished in specialist veneer such as marquetry or streamlined handle free units, storage can become a feature in its own right.
I tend to opt for closed cupboard storage, as there's much less pressure to keep the contents tidy and they're less likely to get covered in a blanket of dust. Should guests turn up unexpectedly, you can comfortably host without the need to tidy up in a last-minute panic. 
That said, open storage can make the room feel more spacious, so in small kitchens this may be a better option to give the illusion of more space. Alternatively, if you have an impressive or eclectic collection of glassware or crockery, open kitchen shelving allows this to become a centerpiece.
5. Don't overlook lighting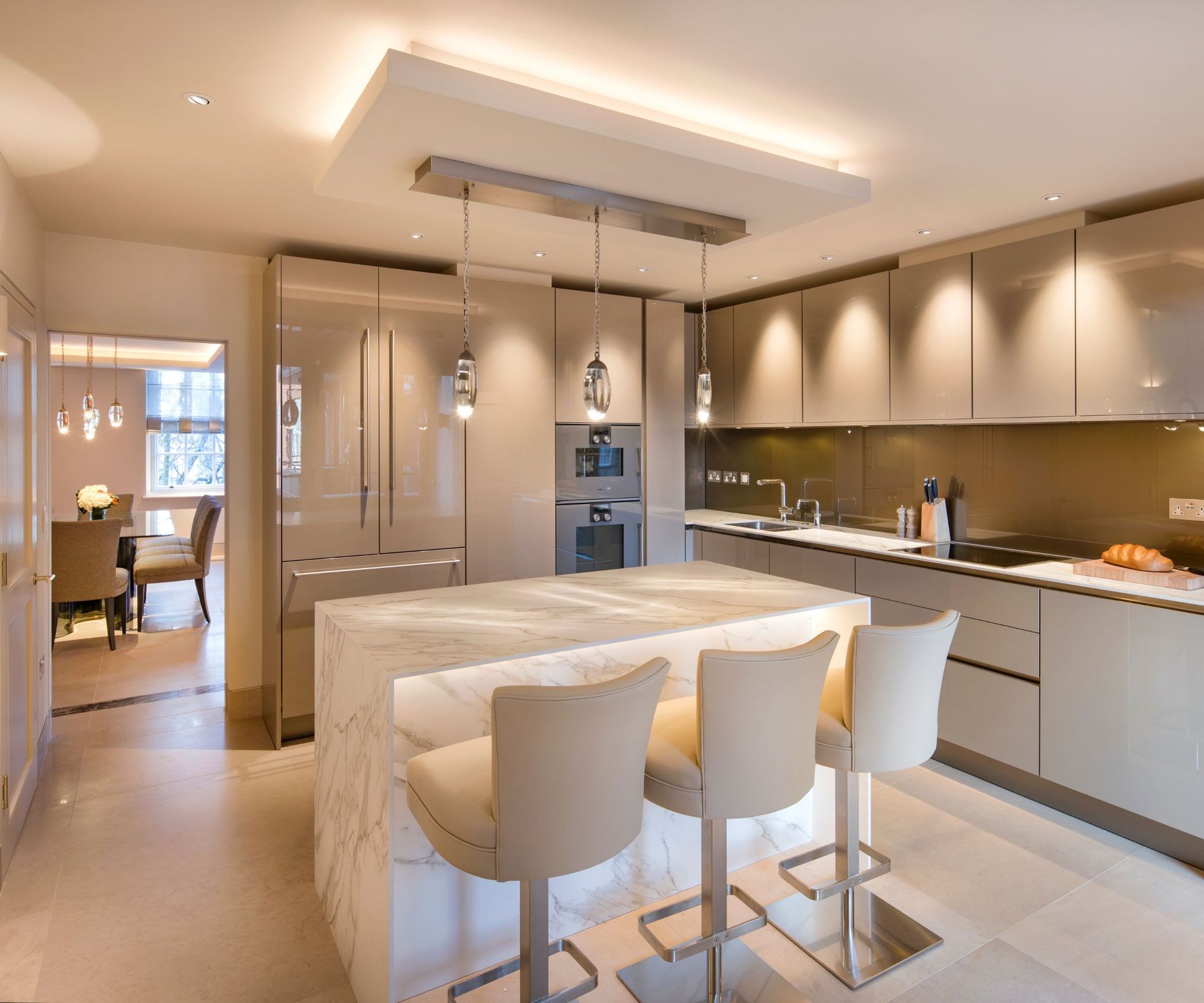 Kitchen lighting ideas are a large part of the design as they add depth to the space. The chosen brightness and warmth can alter the atmosphere of a room, looking beautiful yet practical. 
There's also lots of types of lighting to consider which we generally split into 'task' and 'mood' lighting. Task lighting is a necessity whereas with mood lighting you can be more creative, for example illuminating cabinets or a particular feature of the kitchen you'd like to draw attention to. Pendant lights are a lovely finishing touch over kitchen islands to create a visual focal point.
6. Fit wooden flooring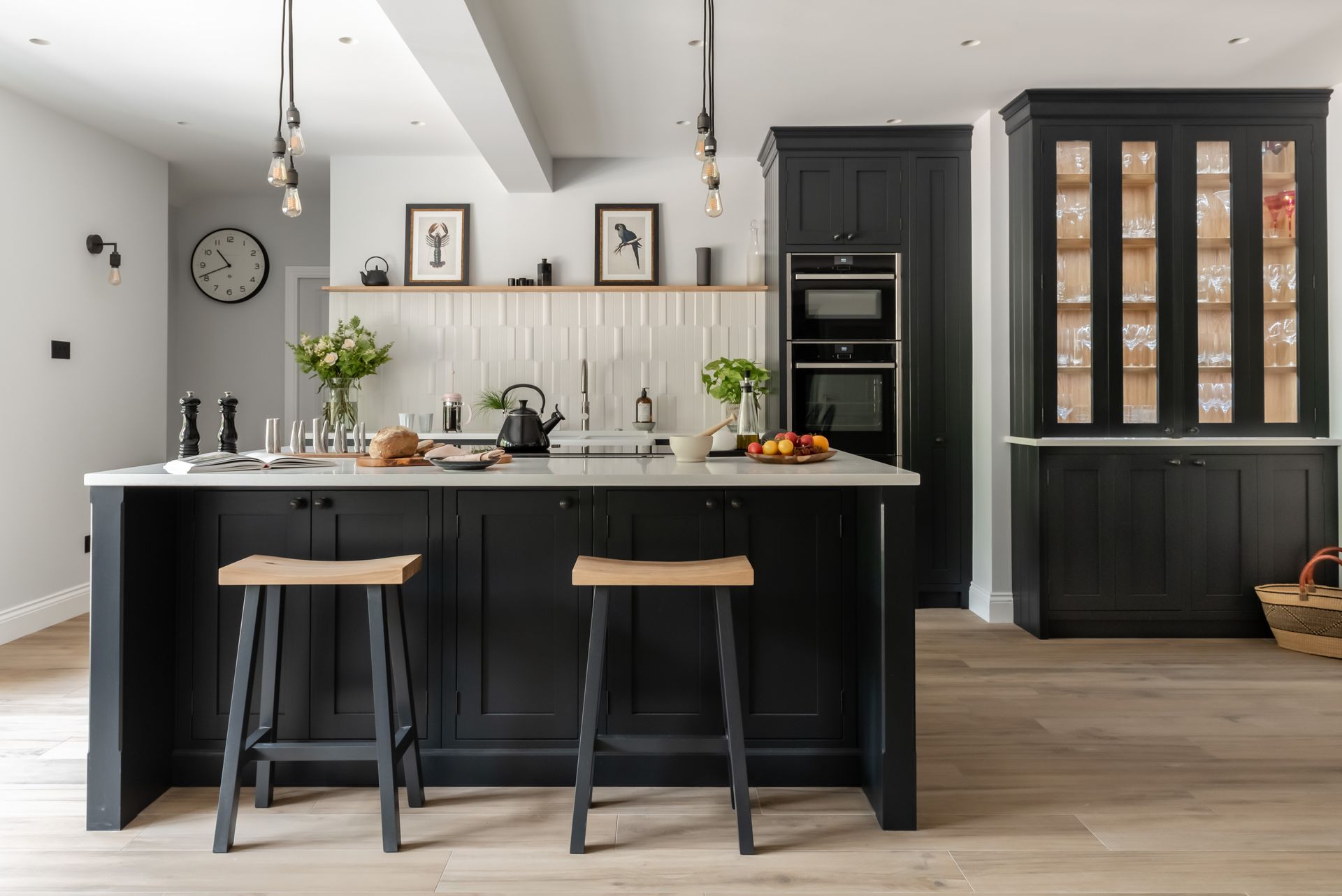 The kitchen is a high-traffic area so you need to select kitchen flooring that can withstand this and the practicalities of cooking. 
Stone or porcelain are both elegant yet practical flooring options and a brilliant compromise for those who want maintenance-free flooring with a natural look. Stone is a great practical choice for family kitchens and can look both rustic and modern at the same time. Designed to be stain and water resistant, porcelain is hardwearing, versatile and easy to clean. Both options look great and can easily withstand the rough and tumble of daily life.
Alternatively, engineered wood is a cost-effective option and can take a high temperature so is often a more suitable choice for those with under-floor heating. Whilst the color of engineered wood can fade, it doesn't expand and contract like solid wood and can withstand the greater level of traffic and accident-prone environment that is a typical kitchen. Reclaimed flooring is more expensive than solid wood, but is the most sustainable option. Reclaimed timber often has less movement and reaction to heat and humidity as it is much older so it can be used with underfloor heating. The perfect choice for the eco-conscious homeowner.
7. Integrate color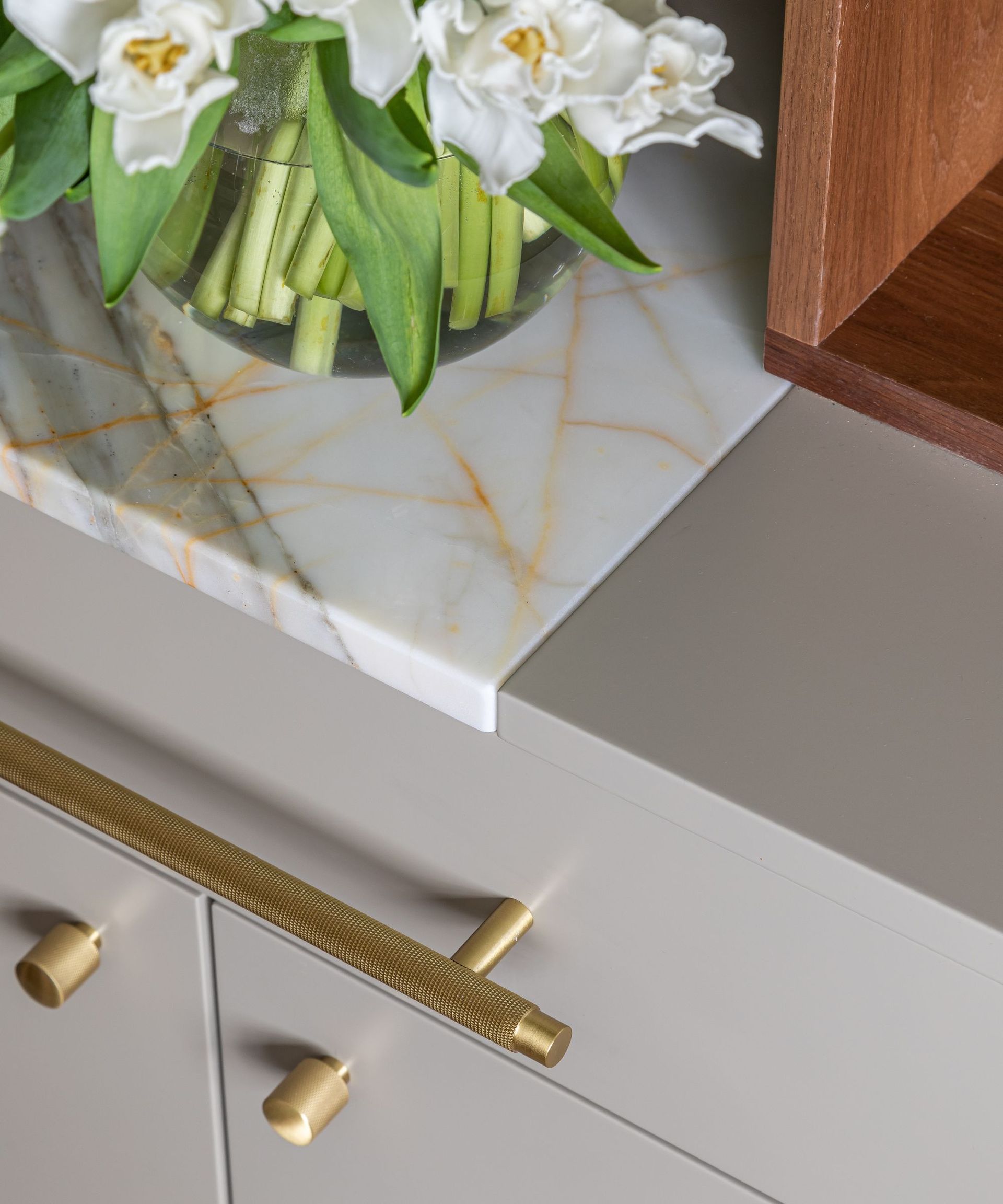 In order to create a timeless kitchen that will look great in years to come, stick to neutrals in the cabinetry and calmer marbles throughout surfaces, and layer with color throughout the furniture or pendants. 
Given you're unlikely to remodel your kitchen regularly, this leaves some flexibility to change different elements or color schemes over time. You can bring a muted scheme to life through color and pattern in the window blinds, appliances, or even bar stools. This can be achieved subtly, such as a color on the trim of a blind, a playful scalloped lampshade, or perhaps some bright striped bar stool cushions.
8. Pick durable countertops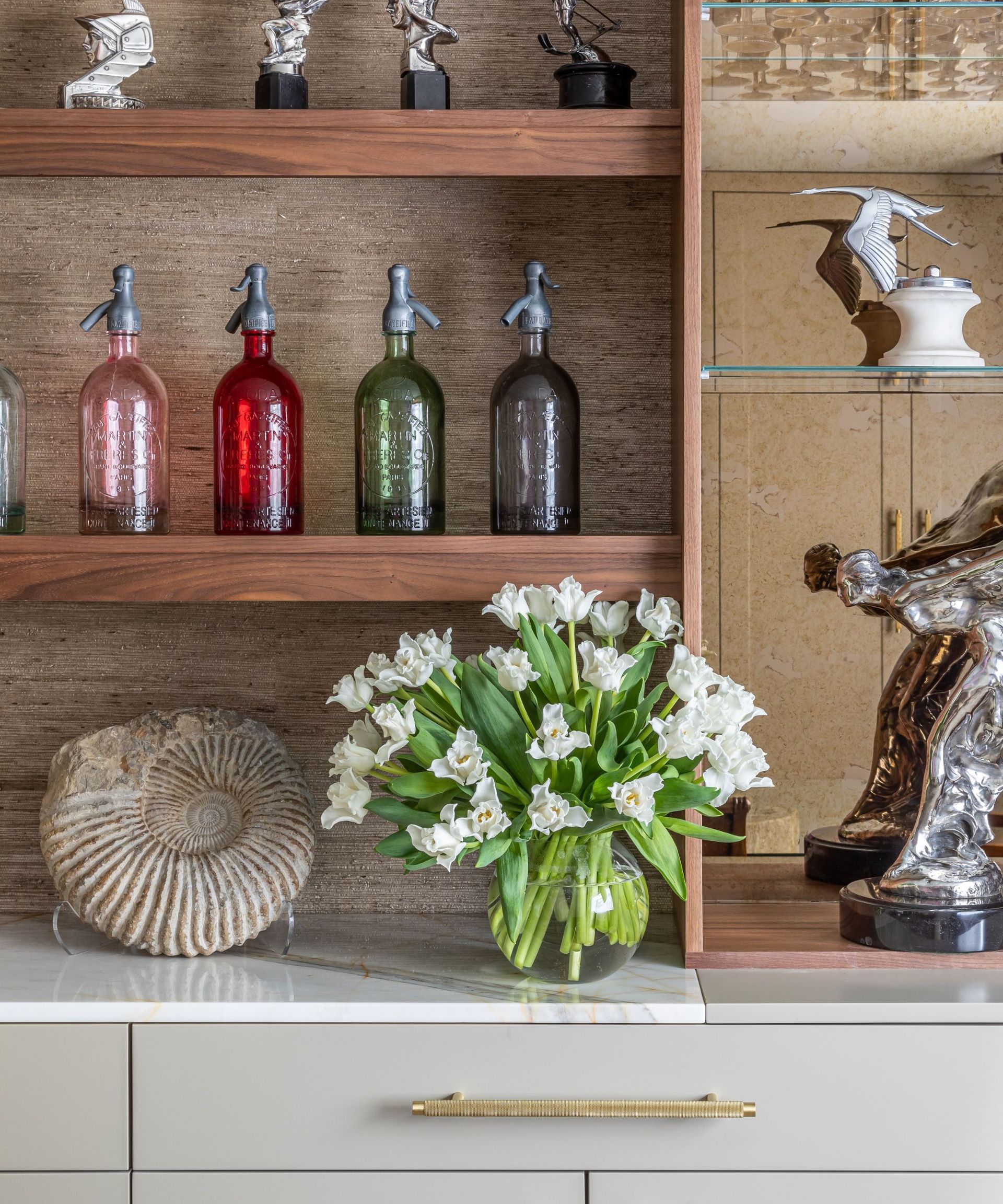 Kitchen countertops are a crucial decision as one of the biggest influences of the kitchen's overall style. Similarly to flooring, yours also need to be durable enough to handle the demands of the space, such as risk of chipping or damage in busy cooking environments. 
The pattern of the bold marble lifts and adds character to any kitchen space. A quartzite, Caesarstone or man-made stone is more hardwearing and great to look at. Quartzite is a good adorable alternative to marble and very easy to maintain, less prone to stains and resistant to cracks.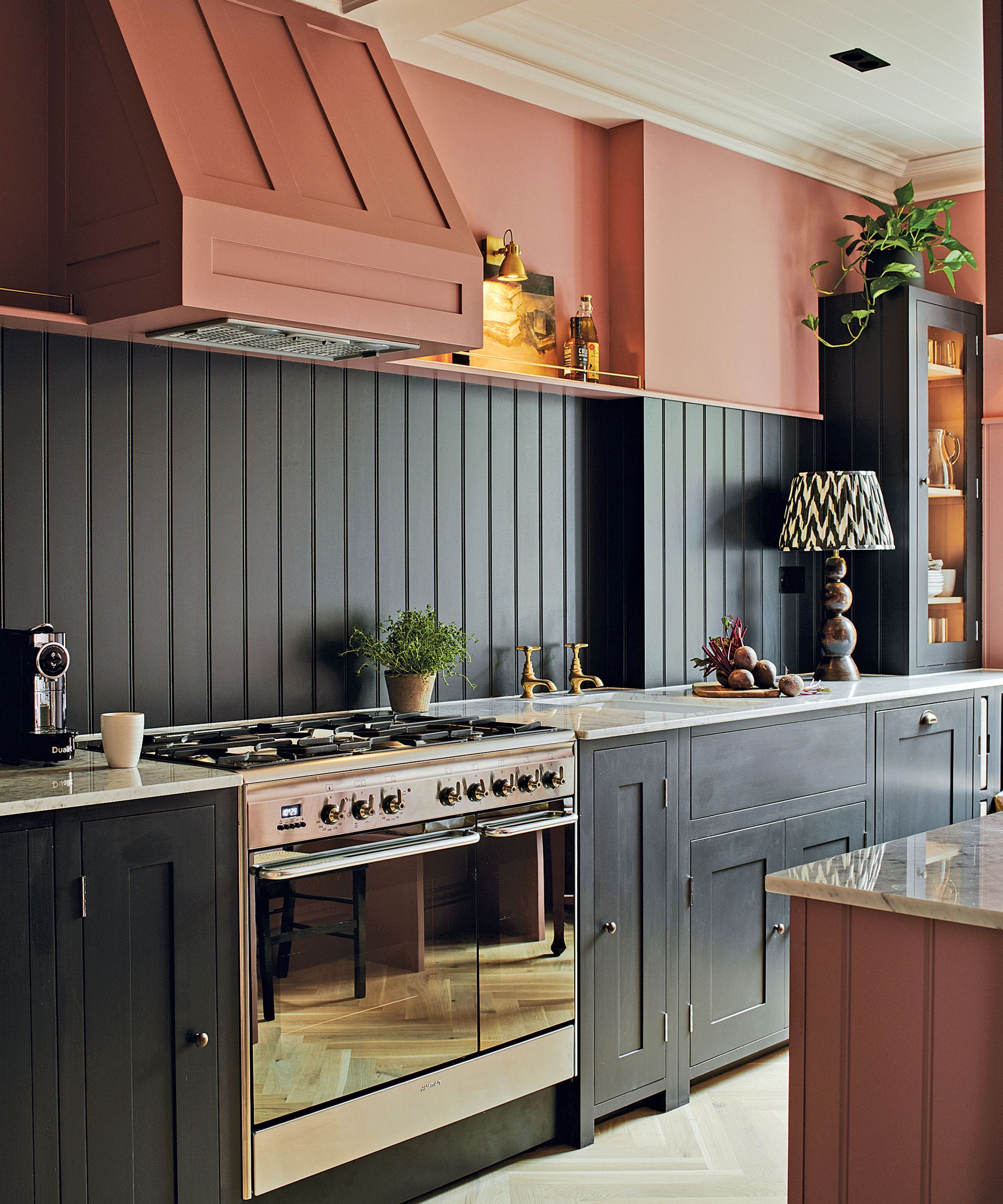 Extractor fans serve an essential practical purpose in the kitchen, but can easily become an eyesore should you leave this as an afterthought. 
The hidden cooker hood-style is perfect if you don't want to make it into a feature and would rather have a more discreet look. Miele (opens in new tab) and Gaggenau (opens in new tab) are great brands, designing extractor fans that sit flush with your wall units and operate with little noise.
Cooker hoods can also serve as a great focal point, enhancing and adding character to the room, so don't shy away from being bold. Clad in a beautiful finish, for a current project we are painting an extraction hood antique brass.
10. Use every storage space available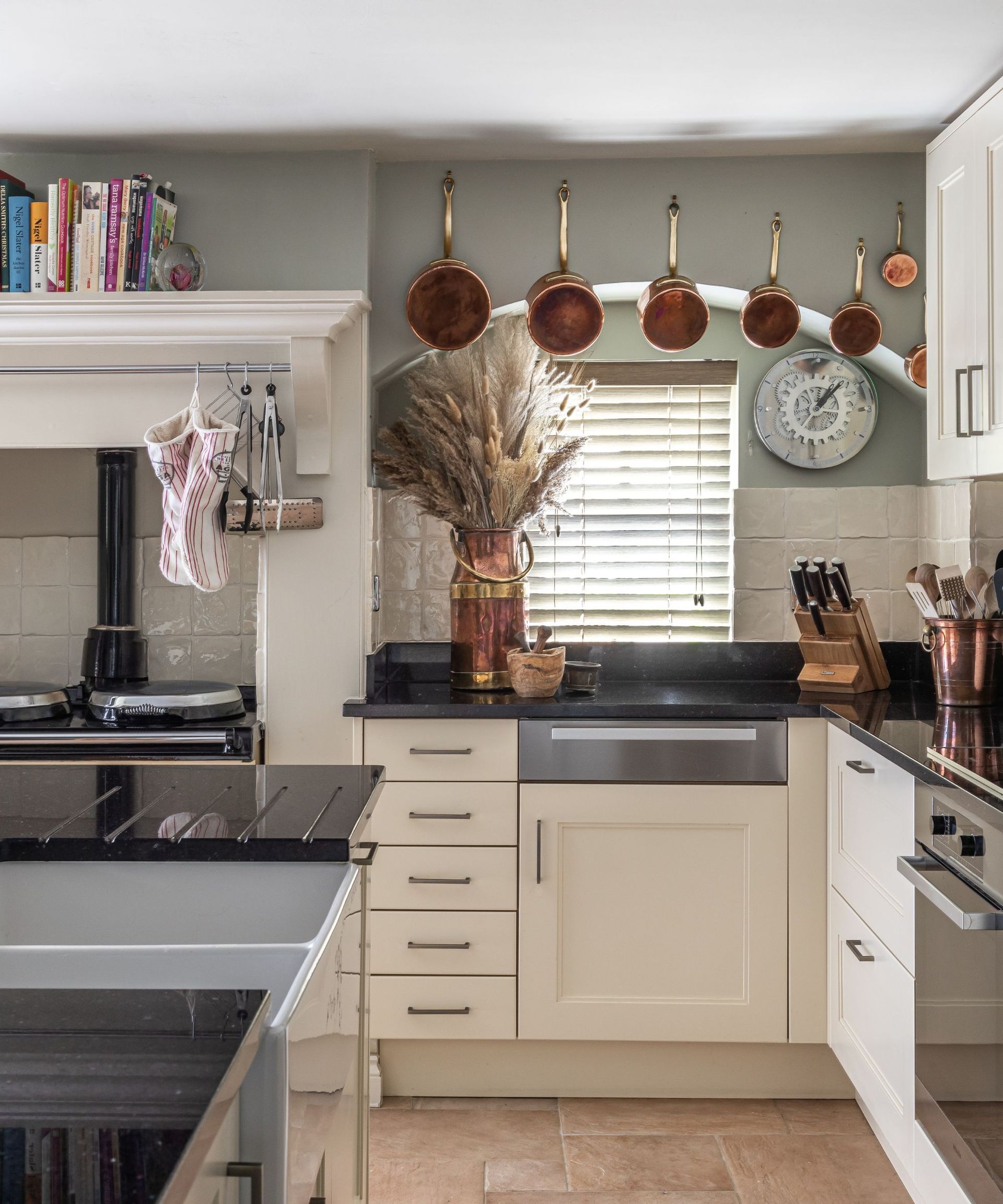 One of my faithful storage tips is to use every space available. Adding pot racks to your wall is a great solution for hanging pots and pans that can't fit into your drawers. I did this in a recent countryside project and it really elevated the rustic, homely feel of the kitchen design. 
I also love smart gadgets that save time and make kitchen tasks easier. A pull out/lift out tray for a food processor is a favorite kitchen gadget of mine, or, take it one step further and integrate a retractable shelf in the cupboard below, allowing you to raise heavy appliances to surface level with ease. 
Ladders fitted to the trim can also act as a quirky and characterful addition to the kitchen, while helping you access those 'out of reach' top shelves.
How do I plan a practical kitchen?
To plan a practical kitchen, focus first on a layout based around the kitchen triangle, which ensures the journey between the sink, oven and refrigerator is smooth. Next, consider placement of other appliances in relation to the triangle, ensuring everything is convenient. This will mean having a dishwasher next to the trash can and sink, for example, or the cutlery and dinnerware drawers near to the dining table and/or dishwasher, and the cookware and cooking implements close to the oven and hob. Next, work in as much storage as you can, using every inch of space to house all the essentials you use every day close to hand. Items you used rarely are better stored in a pantry, utility room or harder-to-access kitchen storage.