18 Easy and Stylish Kitchen Island Decor Ideas
5 min read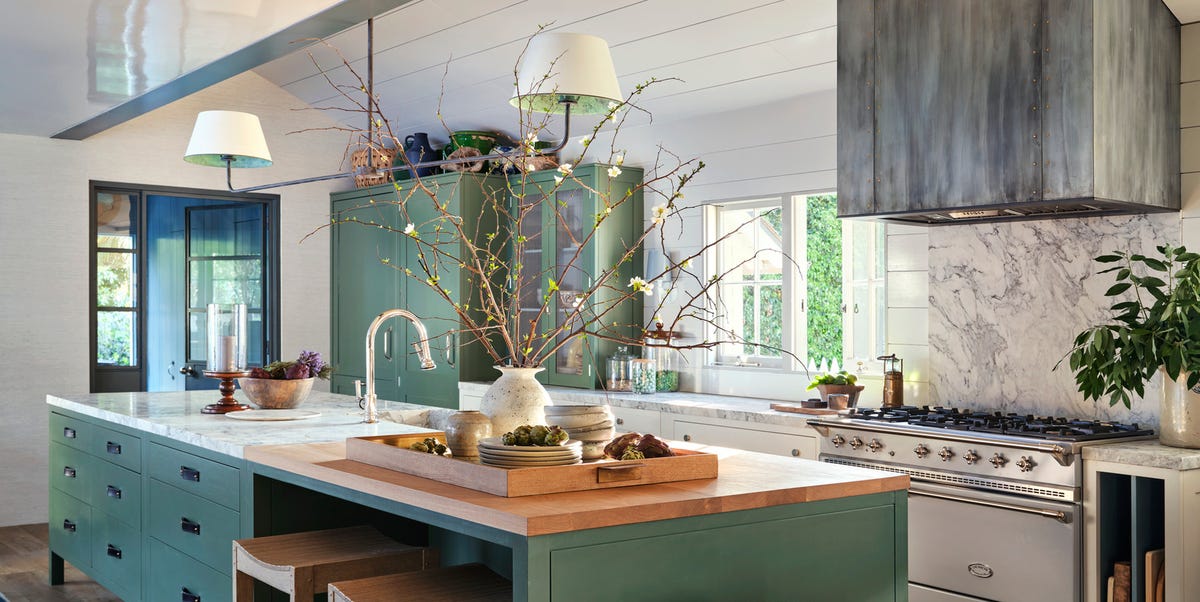 TREVOR TONDRO PHOTOGRAPHY
For the most part, our kitchen islands serve up major functional appeal, adding extra storage—and some much-needed cooking space—to kitchens big and small. However, they can also be a great place to inject a bit of design personality into your kitchen, granting you the opportunity to incorporate new countertop materials, cabinet finishes, and decor accents (think: stools and overhead pendant lights) for a dynamic and visually stunning space. If you find your kitchen island is missing that finishing touch that helps it bridge the gap between form and function, fear not—we're here with 18 kitchen island decor ideas. Ahead, discover stunning ways to style your island and make it the true focal point it deserves to be.
Advertisement – Continue Reading Below
1
Showcase Your Farmer's Market Finds
If your kitchen's vibe leans a bit rustic or country, this fresh idea could be the perfect accent for your island. Mimic the look of a local farmstand by piling a bounty of colorful produce into a basket, as seen here in this Alison Giese-designed space. Bonus: Having your veggies at the forefront means you won't forget to use them throughout the week.
2
Set the Scene for Dinner
Maintain a welcoming vibe in your kitchen by dressing your island like dinner is just around the corner. In this home designed by Janie Molster, stools and classic place settings beckon anyone ready for an after-school snack or late-night bowl of pasta.
In this DeVol kitchen, a collection of smaller blooms brighten up the island, and candles fill the room with a comforting, clean fragrance. If you don't love using scented candles in your kitchen but appreciate the flickering glow of candlelight, get the same effect from a candelabra with scent-free tapers.
Kitchens are a classic spot to house collectibles, especially if you gravitate towards something with a subtle cookware theme, like copper pots, wood cutting boards, or versatile ceramics. Here, product designer Caitlin Wilson leaned into a blue and white color palette, echoing the ceramic finds sprinkled throughout the rest of her space with an equally fabulous bowl on the kitchen island.
Looking for a layered and charming way to deck out your kitchen island? Try out a tray! Not only does it feel cool, casual, and collected, but it makes for easy cleanup any time you need to clear the island and use it for more foodie-focused pursuits. In his home, designer Jeffrey Alan Marks decked out his island tray with extra plates and vintage ceramic vessels.
When thinking of places to display mementos from your travels, chances are the kitchen isn't the first place that comes to mind. Still, your island can be a fun (and unexpected) place to show off some of your favorite trinkets from around the world, especially if they act as a way to bring in additional color or texture. In this kitchen, designed by Amanda Lindroth, a charming wooden elephant holds court over the countertop, lending a cheeky and playful touch.
7
Keep it Totally Minimal
One of our biggest pieces of advice when it comes to decorating your kitchen island? Read the room! Some kitchens don't call for much decor at all, especially if they already boast dramatic finishes or leans into a minimalistic vibe, like in this edgy mountain retreat from designer Sarah Richardson.
If your kitchen is the hub of your home where all sorts of mixing and mingling go down, try styling your island with welcoming bites that will encourage visitors to linger and stay a while. This welcoming space, designed by Meredith McBrearty, boasts a selection of bread and snacks on the counter, creating a soul-warming space in more ways than one.
9
Choose a Bold Bread Bowl
In general, vintage accents are a great way to add patina to a kitchen, which may otherwise feel stark and utilitarian. Bread bowls are an especially popular choice, thanks to their low profile and unique wood finish. Want to up the functionality? Fill yours with fruit, like designers Cortney and Robert Novogratz did here.
10
Pick Some Funky Blooms
For an airy yet eye-catching accent, look no further than a bold bundle of blooms to top your kitchen island. In this space by designer Grace Mitchell, a bouquet of tall white alliums (cousin to the onion!) make an appropriate and funky centerpiece in the otherwise classic room.
11
Play With a Contrasting Hue
Create an energetic focal point at the center of your kitchen by dotting your island with one or two accents in a vibrant and contrasting hue. In this luxe space designed by Cullman & Kravis, a bouquet of blooms and a bowl of apples—both in a punchy lime hue—inject playful energy into the otherwise neutral space.
Store your favorite baking and cooking utensils out on the kitchen island in a ceramic vase or catch-all. Gideon Mendelson put out a pitcher and a bowl filled with rolling pins for visual interest and easy access.
Kitchens are no strangers to overhead lighting—from pot lights to pendants—but what those options deliver in brightness and visibility they sometimes lack in ambiance. Enter: a kitchen island lamp, which will add a romantic and effortless glow to your cook space and help you create an unforgettable dinner scene. Make sure you choose a style that balances size and aesthetics, like the geometric ceramic version found in this serene space designed by Benjamin Dhong.
14
Bottle Some Bold Branches
For a seasonless decor option that is hearty and timeless, try adding a bundle of bold preserved branches to your kitchen. As demonstrated in this stylish cook space by designer Kari Arendsen, far-reaching branches add an architectural element to your kitchen, which can be especially dramatic if your space is more minimalistic or is void of upper cabinetry.
Working with an especially large kitchen? Take advantage of the extra square footage and incorporate an artsy accent, like a favorite sculpture. Here, the design team behind Harte Brownlee & Associates transformed two vintage globes into decorative pillars that (bonus!) double as a unique lighting feature.
16
Let Materials Speak for Themselves
Cool stone and light wood make for the perfect contrasting pair in this kitchen island designed by Workshop APD. Wood floating shelves jut on top of the island as well as off the sides for extra storage and countertop room, where cookbooks and vases add a pretty decorative element.
17
Keep It Simple and Streamlined
When in doubt, keep things straightforward, with only a single bowl or dish on your kitchen island as means of decor. This Regan Baker-designed kitchen shines in its simplicity, helped in part by a ceramic plate on the countertop dressed with a handful of colorful persimmons.
For a fresh, no-fail kitchen island decor solution, head to your own backyard to snip a few fresh sprigs of greenery. This kitchen by Lauren Nelson Design captures the appeal of live greenery perfectly, adding a casual and welcoming vibe to the space without overwhelming the kitchen island with unnecessary junk.
Advertisement – Continue Reading Below