A Glam New York Revamp, Starring Carpet Tiles
3 min read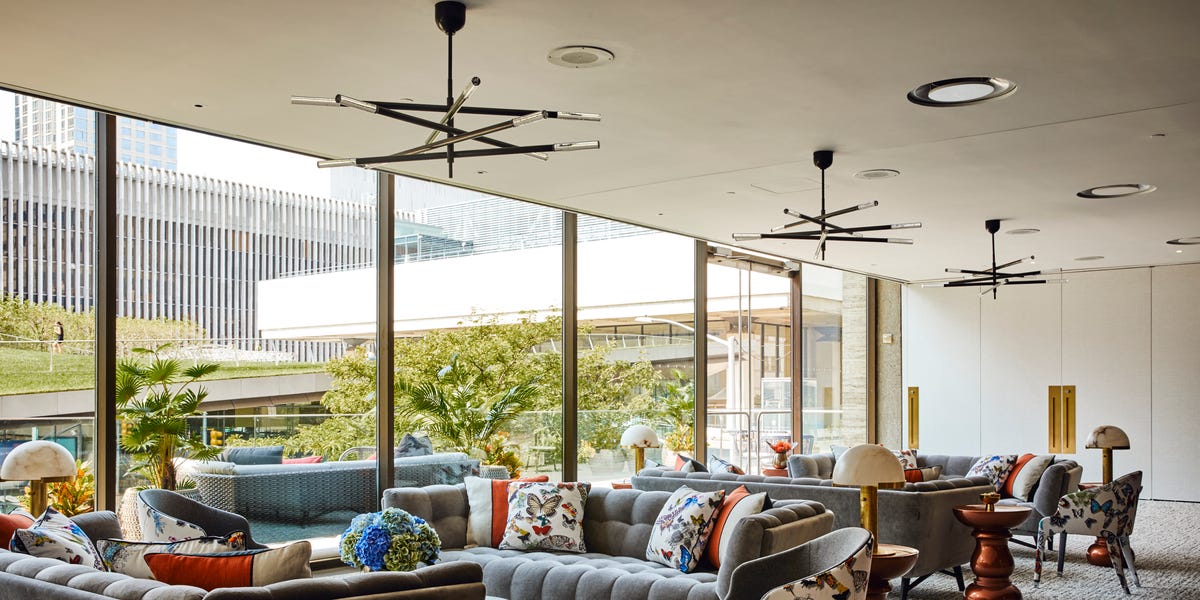 When you're the designer tapped to reimagine the Hauser Lounge at Lincoln Center's Alice Tully Hall, that's a gratifying honor in and of itself. But for Ellie Cullman, founder of the design firm Cullman & Kravis and longtime member of the Film at Lincoln Center board, it was especially thrilling to know that she would be working on a place where she had often lingered in between New York Film Festival screenings. To her, this renovation meant embracing Manhattan's recovery from the pandemic—and most exciting of all was the chance to be "a part of the reopening of New York City, in a space designed for celebrations."
Cullman knew she faced a unique quandary, though. "The challenge was not being able to change any of the architectural elements of the room, from big strokes such as the walls to details such as adding an outlet for a lamp," she says. Instead, in order to make a real impact on the 1,700-square-foot lounge and 1,100-square-foot patio space overlooking Broadway—while also appealing to the broadest audience possible—she had to get clever with her decor choices, right down to what would most certainly be a heavily trafficked floor.
Knowing that this grounding element had to be versatile enough to work for film premieres, political fundraisers, fashion week events, thought-leader summits, and more, Cullman went with a classic. FLOR's Tailored Touch carpet tile, a nubby black-and-white tweed, "has the vibe of a Chanel suit," she says—just the sort of thing that won't go out of style in a place that's endured as a New York City institution for more than 50 years.
"The space had to be flexible for different usage scenarios, and not too aggressive so that different groups renting out the space would feel comfortable with the decor," she says. (Case in point: Her team's proposal of bringing in a set of scarlet-hued sofas in a shade she called cinnabar "was deemed too 'out there'.")
Cullman struck the right balance by leaning into patterned neutrals, including gray flannel and charcoal leather upholstery from Roche Bobois and a color-blocked Scavolini Kitchen design. For a touch of whimsy, she hung sculptural Kelly Wearstler for Circa Lighting fixtures from the ceiling—and, most notably, for the chairs and pillows, brought in "an unexpected" print called Butterfly Parade that is designed by Christian Lacroix for Designers Guild, through Osborne & Little.
"The color scheme was intended to allow the various groups to feel comfortable, but still, to pack some punch," says Cullman, who also incorporated elements that nod to the space's previous design. "The copper tone of the side tables really pops and references the existing wood walls," she says, "and the gray, black, and cream palette references Lincoln Center's travertine walls and the bronze trim of the Hauser window wall."
The end result? A room that's "cheerful, welcoming, and glamorous," according to Cullman. And one that can withstand thousands of footsteps each year and the inevitable spills and stains that come with them, as the FLOR carpeting proved right out of the gate. Designed to be configured to fit any dimensions, the rug tiles come in 19.7-inch by 19.7-inch squares; on the first day of installation, when one of the tiles was stained, the benefits of this pick immediately became clear. "Rather than it being a tragedy on 13-foot wide goods," Cullman says, "it was an easy fix to replace one tile."
Inspired? We've rounded up more FLOR options that can work just as well in your home as they do in this grand New York City establishment.
This content is created and maintained by a third party, and imported onto this page to help users provide their email addresses. You may be able to find more information about this and similar content at piano.io
https://www.elledecor.com/design-decorate/room-ideas/a37870350/this-revamp-of-a-new-york-institution-is-grounded-in-one-sophisticatedand-durableelement/