Designer Sean Kim Makes Affordable 3-D-Printed Home Goods
5 min read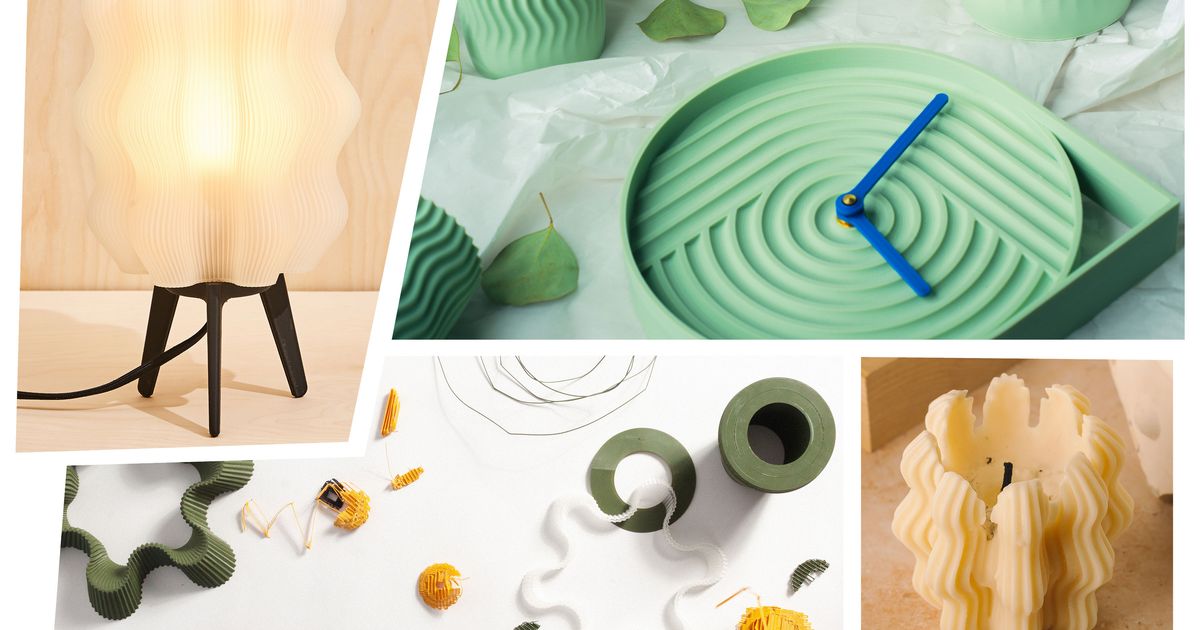 Photo-Illustration: Curbed; Photos: Courtesy of Wooj
It all started with a torn Noguchi light. Sean Kim bought an Akari lantern during the early days of the pandemic, which arrived with a torn shade. He got a replacement (which came fully intact) but didn't want to throw away the base of the damaged light. So Kim, who was finishing up an industrial design master's program at Pratt, decided to make his own lampshade. He designed and 3-D-printed a wavy form out of a corn-based bioplastic — it sort of looks like a cross between an Aalto vase and a jellyfish — and liked the lamp so much that he thought he could sell one. He sourced some hardware, redesigned the base, and posted the finished lamp to Instagram with the caption, "Does anyone want to buy this?" He quickly sold five of them to friends and spent some of the money he earned on Instagram ads. "It was a case study in, does this work or am I just hot air?" Kim says. "Within a day or two, I had a total stranger buy one. I thought, Now I've gotta try to actually try to do this."
The Wavy Lamp was a hit, and Kim could barely keep up with orders. He turned his closet into a mini-factory that had six 3-D printers going 24/7 and recruited his neighbor to help with wiring bases, which she did from her own closet studio across the hall. The playful spontaneity of making it became a philosophy for Kim's home-goods brand, Wooj. "The defining feature is: How do you stick strange things on more practical things?" he says.
Sean Kim (bottom right) and his team design and produce 3-D-printed affordable home goods.
Photo: Courtesy of Wooj
Kim's fascination with digital fabrication had actually begun before his official turn to industrial design. Before coming to New York for grad school, Kim worked in San Francisco as an engineer for tech start-ups. He got burned-out working on projects that were intangible, so he joined a makerspace to start building things he could hold. There, he learned about CNC machines and 3-D printing, which joined his interests in software and creating physical objects. In design school, Kim became interested in distributed manufacturing — the idea that you could take any design and have it made in local factories instead of shipping from overseas. Wooj was an experiment for realizing that concept, which was, of course, harder to do than it sounded. The early days were filled with hiccups, especially the feedback from customers who were frustrated when lead times took longer than they expected. "I wanted Wooj to feel like a friendly, vibrant DTC brand," Kim says. "But people would demand from us as if we're a big, investor-backed company. I was like, It's just me in this closet and you're being mean to me because it takes me a while to make this lamp!" Eventually, Kim made nearly 2,000 lamps in that closet studio before moving into a larger space late last year.
To date, Wooj has sold around 5,000 lights and has hired four people to help run the company. Now, Kim is working to find the brand's next great ideas. The company recently released a series of clocks, a line of candles developed with the Brooklyn brand nlumec, and vessels. A ceramics line will come out sometime next month. "I want to try a lot of different things and to be as creative as possible without editing too much," Kim says. "I'm not always totally confident in my vision as a designer and I don't always think my aesthetic decision is the right one. I want to be able to hold something in my hands and ask people, Hey, do you like this?"
"The Wavy Lamp was a lucky thing because I was able to be flippant with the design. The shape is meant to be approachable. The balance I'm always trying to strike is something that would be hard to execute by hand, but would be easy to do with machines, but doesn't look machine-made, like how the parametricism of Zaha Hadid is very computerized. I don't want it to feel inorganic. The wavy pattern is something I worked with on other things. I used a CNC machine to make a wavy mold for a CBD chocolate bar, which was supposed to make you feel off-kilter, and for a knife rack. It appealed to me as a base geometry that was very applicable to a lot of places. There's no way I would have gone to an investor and said, 'Can you make 1,000 of these lamps?' It's pretty gratifying that this product helps us fund our other projects. We're hoping to design something that's just as popular so we can keep the party going."
"We used a form that's familiar to our studio — this undulating wave or curve — for the Wavy Candle. I always think of the work we do as little phenomena. They're always based on a pattern and then we think, How do you translate it into something else so it has a function? Do you need to put legs on it? Or put a light in it? We launched with a very limited number, just 50, to see if it works. We'll make more depending on the response — or nonresponse. My strategy is to try to do a bunch of different things with the 3-D printer. If people don't like it, it's not like we spent a lot of money on molds, so we can be more flippant. I am still learning a lot of things all of the time and I certainly hope I keep learning."
"Quin, another designer I work with, and I are both interested in landscape architecture and heard a talk from Shunmyo Masuno, a zen-garden designer. His gardens always look like they're in flux. Depending on where you stand, they'll always look differently. We borrowed the sense of asymmetry with the Masuno Clock. You could hang it on the wall in any orientation, or rest it on its side on a table. Masuno actually saw the clock, through a very strange series of events. Someone bought a clock and her family friend was friends with Masuno. She showed him the clock and told us he was amused by it. I'm happy we have his gentle smile of approval."
"With the Duna Vase, I'm exploring distortion a little more. Whenever we print lamps that come out as seconds, we've been melting them to make them weirder. Now, I'm distorting the designs in the software and printing them out this way. We use Grasshopper, a program architects use, to compute the shape of the vase and its pattern, which ends up being very mathematical. Then we import the file into Blender, and there we can modify the pattern in a way that's more intuitive using weighted points. It's a subtle change in the movement, but it feels more intentional. For the next iteration of the design, I'm thinking about playing with this mathematical design but making it feel more spontaneous, which has been hard for me to capture because to generate the forms in the first place is very logical."