Eliminated Interior Design Masters Q&A With Abi and Rochelle
7 min read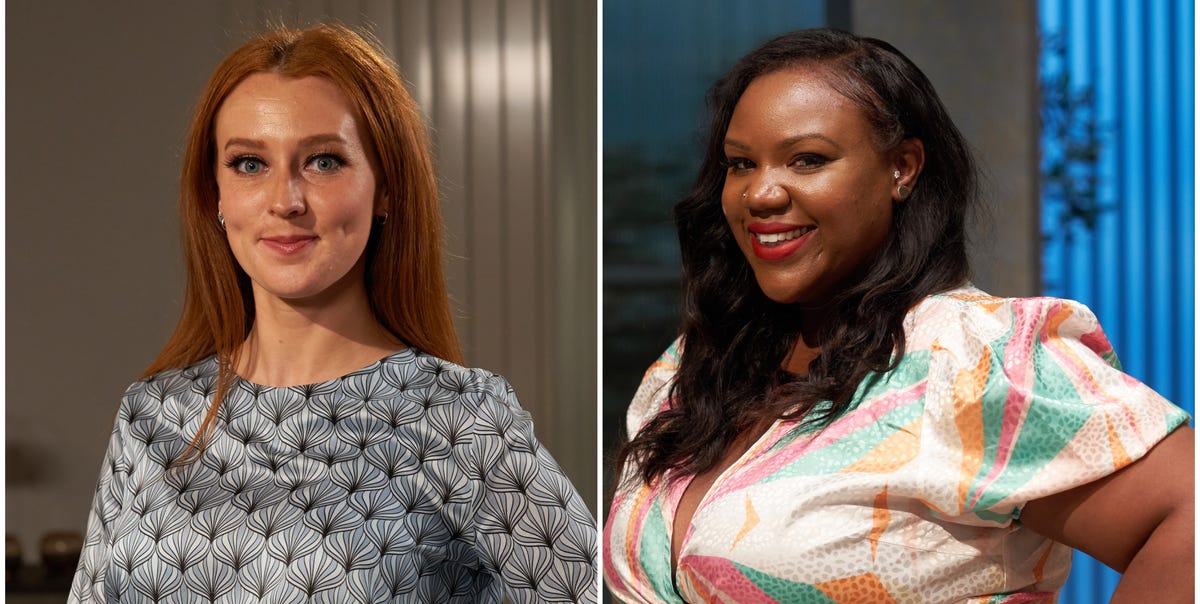 There was a shock double elimination on Wednesday night's episode of BBC's Interior Design Masters, which meant we sadly had to say goodbye to the lovely Abi and Rochelle – just as they both seemed to be hitting their stride and building their confidence.
Now into week three of the challenge, this was possibly the toughest one yet – designing a common room to reflect a Bristol school's house pride, including their logo and house colours. And at first it all seemed to be going so well for Abi, 27, and Rochelle, 34 – until it all went wrong.
Fresh from last night's episode (the pair had a sleepover and watched it together), House Beautiful UK had an exclusive chat with the self-proclaimed new Thelma and Louise. We think we'll be seeing a lot more of these two in the near future…
We're really surprised last night to see you both go, how did you feel watching it back?
Rochelle: I felt okay actually. I had had such a good time behind the scenes and I felt that the feedback was fair. I have really fond memories of my time on the show.
Abi: I have been so nervous, I spent most of yesterday in tears as I was worried about what was going to be shown. However, having a sleepover with Rochelle and watching it together really helped. I think now, with some distance, I can feel proud of what we achieved.
On the day, did you both have a feeling you would end up on the sofa or was it a complete surprise?
Abi: Oh, we knew! We were prepared to go.
Rochelle: We had tears on the day, but when we left, Alan Carr said you would think we'd just got out of prison as we were so happy! We just couldn't stop laughing.
It felt like the artificial grass was the biggest problem…
Abi: The grass was a huge problem. We had spent £700 on a beautiful and luxurious artificial grass; it looked and felt so realistic and it was in one huge piece, so would have looked a million times better, but as you saw, it never arrived.
Rochelle: The grass was obviously a let down and our paint was rubbish, too. We upcycled all of the furniture used and had custom pieces made, which obviously took up a lot of time. We were both trying to push ourselves and prove ourselves.
Was this the hardest week for you both?
Rochelle: It was a bit like throwing spaghetti on a wall! We had never seen the space before – all you get is a photo to work with. When we walked in that was genuinely the first time we had seen the room and it was massive. Saying that, episode two was harder for me.
Abi: We made every decision together – we didn't always agree with each other, but we worked through it and came out with a really strong friendship. We spent two hours crying in the van together and then laughed that we were crying!
Apart from the artificial grass drama, did anything else go wrong that we didn't see on camera?
Rochelle: The floor!
Abi: We spent hours priming the floor as we wanted to use a grey paint. Only problem being, the primer was total rubbish so we had to end up using the (wall) paint we had – long story short, it didn't go to plan. Also, the cupboards we had for the office weren't the same size, even though the person I got them from told me they were.
Rochelle: And the cork panels went wrong – someone somehow broke one, but we just had to work with what we had.
The first thing head judge Michelle Ogundehin homed in on was the faux grass on the wall – were you expecting this?
Abi: Absolutely! As soon as we took a step back and looked at it, we knew. But we hoped that they would be able to see our vision and to understand the idea.
Rochelle: You don't have time for trial and error and you have limited resources – there's not a huge team helping you. We were really hands-on and we still ran out of time.
Guest judge Sophie Robinson seemed to really like the room, was this a confidence boost watching it back?
Abi: Yes! We love her. Sophie is the queen of colour. She is just amazing; she loved our colours, she could see our vision, but she was right in that the execution hadn't gone to plan.
Rochelle: We listened to the kids too much. They didn't want loads of purple, so we were trying to keep our clients happy. Unfortunately, we didn't have time to sit down and show them loads of ideas or try to persuade them to go in another direction.
Michelle was definitely a fan of the Lundy Lions vinyl sticker, do you wish you had made more of it?
Abi: Honestly? No.
Rochelle: The kids didn't want that and we wanted them to feel heard. But I would say to anyone who is thinking of applying for next year – don't pay too much attention to the brief or the client. Just do what you think is best and have fun!
Both judges commented on a lack of the house colour purple. With hindsight, would you have included more purple?
Rochelle: In my original brief, I flooded the room with purple, but we adapted our ideas once we had spoken with the kids. It was Abi who said maybe we should add in a bit more than what the kids say they want.
Abi: I think now I would make the floor purple and have grey and white stripes on the walls.
Michelle wanted the stripes to be replicated on the faux grass – do you agree?
Rochelle: Yes – that was actually in our original visual. We were also going to blend it with the cork. But with the grass being in strips, it would have looked better.
Abi: We just didn't have the time to do it.
Michelle and Sophie were also discussing the wonky letters and cork board, what happened?
Rochelle: It was time. It's always a lack of time! Maybe we shouldn't have worried so much about painting the floors and should have re-thought some elements and invested the time in different things.
Abi: We could see afterwards it was wonky, but we couldn't go back and fix it. We were just drilling the letters onto the wall in a total panic.
If you could go back in time and change anything would you and why?
Abi: 100 per cent, yes. I would change nearly everything! But also, I wouldn't worry so much. Saying that though, Rochelle and I had so much fun together, so I can't really complain.
Rochelle: Second that! When you're actually on the show you take it so seriously, which is understandable, but it is meant to be fun! You've got to stick to your guns.
Which room was your favourite out of the other contestants?

Both: Banjo and Molly's!
Rochelle: As soon as we walked in, we loved it.
Abi: We couldn't understand why or how Banjo and Molly were on the sofa. But I also loved The Bear's room, designed by Dean and Amy.
What's next for the both of you?
Rochelle: You mean, what are you going to get from Thelma and Louise?
Abi: I have my own small upcycling business that I would love to expand, but I would really love to explore more opportunities in TV – especially with Rochelle!
Rochelle: I would also love to keep on growing my small business, Luna Spot Design, and more TV work, especially with Abi. I've just done my own kitchen renovation too, which will be on my Instagram.
Abi: So don't worry, you've not seen the last of us!
Who do you want to win?
Both: Banjo!
Rochelle: I can't tell you how incredible he is. I loved him from the minute we worked together in week one. He is so much fun and so talented.
Abi: I just love him.
• Catch the next episode of Interior Design Masters on Wednesday at 9pm on BBC One. Follow Rochelle on Instagram @rochelle_dalphinis and Abi @abianndavis.
Follow House Beautiful on Instagram.
This content is created and maintained by a third party, and imported onto this page to help users provide their email addresses. You may be able to find more information about this and similar content at piano.io