HOLMES: Classic white kitchen always a good idea
5 min read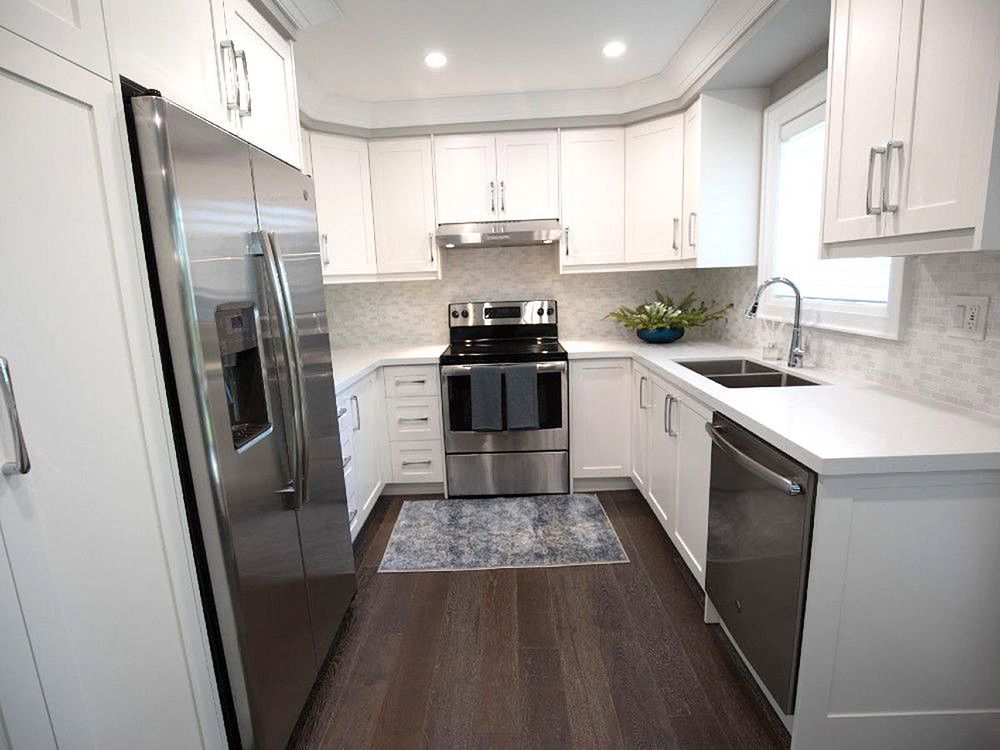 Article content
This time of year, we think about the holidays, shopping and spending time with our families. But it's also a time when we look to the year ahead. There's been lots of discussions with our team and partners about the upcoming design trends particularly, regarding kitchens and bathrooms. Here's what we think.
Article content
The kitchen is the heart of the home, with a focus on socializing and spending quality time with loved ones. Even homeowners with older homes want to open the kitchen so it becomes a focal point and is more integrated with the surrounding living spaces.
I'm a contractor, not a designer, but when I have designed kitchens I like to keep things neutral because it goes with everything and everyone's style. I think the classic white kitchen is always a good idea. You can introduce splashes of colour and texture by creating an accent wall with paint, wallpaper or tile, a kitchen island, fabrics, finishes or even a backsplash.
Several designers tell me the white kitchen will start transitioning to warmer tones, using dark browns, warmer beiges, and generally more earthy tones. There will also be a mixing of textures, different metals and finishes and natural woods.
Article content
Homeowners can also expect to see these warmer colour schemes continue into the bathroom as earthy spa-like colours, natural wood features, and warm metal finishes continue to be popular. In addition, darker, moodier colours are also trending.
However, I've also learned that a bathroom or powder room renovation is a perfect room to have some fun. Go bold, brightly coloured or dark and moody. We've done bold patterned mosaic tile flooring and shower areas that create a fun bathroom. Floating vanities are another great choice for bathrooms as they help create more space and make cleaning much easier, particularly in smaller bathrooms.
The advancement in technology will affect homeowners' choices regarding materials and products. Many products today, like sinks, door handles and faucets, are made with new copper antimicrobial surfaces. While these are seen more in commercial spaces, I have a feeling they'll become popular in the residential space too.
Article content
Matte or brushed pewter, copper, and brass faucets and fixtures are expected to be incorporated in more designs. Using matte black is a great way to add contrast and we use this finish a lot in our recent shows, but in my opinion, it is classic enough to remain timeless.
With a simple change of your faucets, fixtures and cabinet hardware your space can easily be refreshed.
Statement range hoods in kitchens will continue being popular as they are an excellent way to provide a wow factor to your cooking area. Stone, porcelain, quartz and granite tile slabs can be extended up the wall to create a streamlined grout-free backsplash or sexy hood range surround. They look incredible and help make a focal point within the space. Slabs will also become more prevalent for luxury bathrooms.
Article content
Lighting has also come a long way and will continue to be a significant element in any kitchen or bathroom renovation. When designed correctly every area will become inviting, safe and functional. This includes incorporating smart technology, and considering the placement of your switches and plugs, as well as using layered lighting.
Maximizing storage solutions will always be on trend in my mind, whether in the kitchen or the bathroom. To make the most of the space, I suggest consulting with a designer, as they will provide guidance and solutions that are right for you. One storage trend that is becoming increasingly popular is creating clean and streamlined kitchens by keeping everything hidden behind cabinetry, including microwaves, dishwashers, and fridges. Even hidden pantries are becoming a popular request.
Article content
The importance of ventilation and properly installing high-quality exhaust fans and ventilation systems are essential in any kitchen or bathroom renovation. They not only remove excess moisture and stale air but they also help maintain healthy indoor air quality.
Classic trends will never go out of style in terms of design and decor. However, I do hope that homeowners will always be aware of what's under the floors and behind the walls, and will use high-quality building products, especially in these wet zones. Rot, mould, and mildew can be avoided by selecting water- and mould-resistant products that offer a continuous layer of moisture protection. Additionally, it's crucial to begin any tiling project on a level floor and, whenever possible, renovate with accessibility in mind. Think about kitchen pull-down shelves and easy-close cabinet doors and drawers and in a bathroom, consider a curbless shower, grab bars and a shower bench, especially in your forever home.