Madison design company's interactive remake of the famed Baltusrol Golf Club's locker rooms earns top honor | Business
4 min read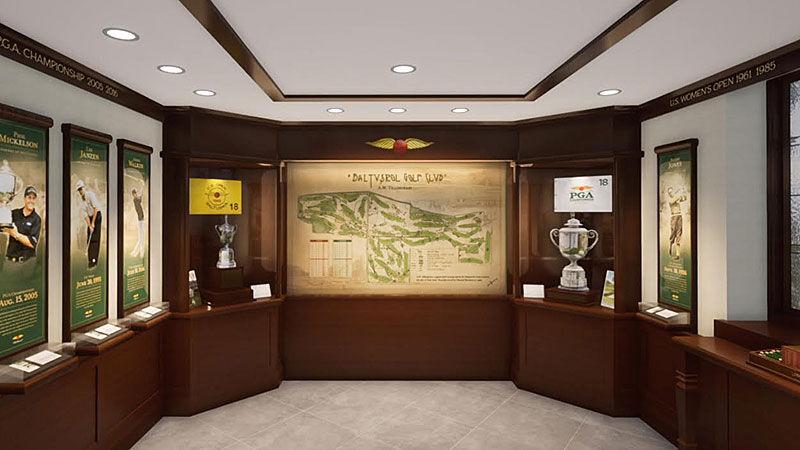 It's tempting when you hear the words men's locker room to imagine a dank space filled with towel-clad old men grousing about missed putts and how much better the world was when they were young.
Now imagine a locker room done right. A golf course locker room that is more Smithsonian than Gold's Gym, a welcoming space that marries the club's rich history with the latest interactive story-telling technology in ways that will give the visitor "an absolutely tingling moment." That's the direction famed Baltusrol Golf Club went in reimagining its locker facility, a design that tapped the expertise of the Madison "experiential design" company ZEBRADOG and was judged the No. 1 private club locker room for 2021 by Club+Resort Business magazine.
Already it looks like it won't be the company's last locker room. Mark Schmitz is ZEBRADOG founder and owner. He's an avid golfer who has played around the world and has become a course rater for Golfweek magazine. He said his company is now in talks with other prominent golf clubs both nationally and closer to home about performing similar transformations.
In its 25 years in business, ZEBRADOG has worked on exhibit space design for some of Wisconsin's truly iconic names, including the Green Bay Packers and Lambeau Field, the Milwaukee Bucks, Leinenkugel's Brewing and a host of others.
Baltusrol, in Springfield, N.J., is from a much tonier neighborhood but is also an iconic name in golf, boasting two major championship courses designed a century ago by the famed architect A.W. Tillinghast. Baltusrol has hosted 17 major championships, including seven U.S. Opens and two U.S. Women's Opens. It was at Baltusrol where Jack Nicklaus outdueled Arnold Palmer to win the 1967 U.S. Open with a famous 1-iron shot on the 18th hole of the Lower Course that is marked today by a commemorative fairway plaque 238 yards from the green. Nicklaus later held on to defeat Isao Aoki in the 1980 Open for his second Baltusrol title. Winners of Baltusrol's two PGA Championships were Phil Mickelson in 2005 and Jimmy Walker in 2016.
"This isn't just a private club," Schmitz said of Baltusrol, one of only four golf course properties to be named a National Historic Landmark. "It's an American asset. Championship golf goes through Baltusrol and has since 1901."
It's an asset with rich stories to share. When a fire left water damage in the locker rooms a few years ago, the club was trying to figure out how best to rebuild, which is when ZEBRADOG was called in.
Oddly enough, it was through connections Schmitz had made with famed college basketball coach Mike Krzyzewski when doing work for the men's program at Duke University. A Duke alum who was on the board of directors at Baltusrol called Schmitz and said, "I think we need your help." At the club's invitation, Schmitz went to Baltusrol to do a tour of the clubhouse that is on the National Register of Historic Places and the transformation that would take about 18 months was underway.
The work actually involved two spaces, the 12,300-square foot men's locker room itself with its 660 lockers and  sizable service area for a bar for drinks or dining as well as the former Caddy Master room. "It was basically a closet," Schmitz said, "but it was the entrance to the men's locker room."
That "closet" was turned into the Scoring Room, which now serves as a showcase of the club's 125-year history but told with the latest technological displays. The interactive media installation shows Baltusrol founders, past champions and historic moments through the years. Millwork at the top of the room features a gold-leaf hand-painted ledger of all club championships while illustrated player exhibits celebrate past champions and their stories and showcase player-signed scorecards documenting their historic achievements.
"You see all these names and you're standing in that room and they're speaking to you," Schmitz said, adding it was absolutely critical that even timeless stories be shared in the most imaginative, high-tech ways. "It's like these frames come alive and talk to you."
Instead of merely hanging historic photographs on the walls, the interactive design of the exhibits allows visitors to interact with the past, Schmitz said. Or, with the present day. With the push of a button a display showing a flyover of all 36 of Tillinghast's hole designs can become a scoreboard for the club's member-guest event.
Baltusrol has "a robust membership," he said, but like all clubs it needs to attract a younger generation and that made it even more important to make the club's history relevant today. In the long run it will help the club recruit and retain new members if it can successfully make its storied past relevant to millennials.
"How do you deliver that to a 25-year-old," Schmitz said. Young members "are just dialed into that technology."
Phase two of the project is now underway to make such historic content accessible in other public areas at the club, as well.