Pryce Lea's horticultural expertise blossoming at Delaware Botanic Gardens | Lifestyle
8 min read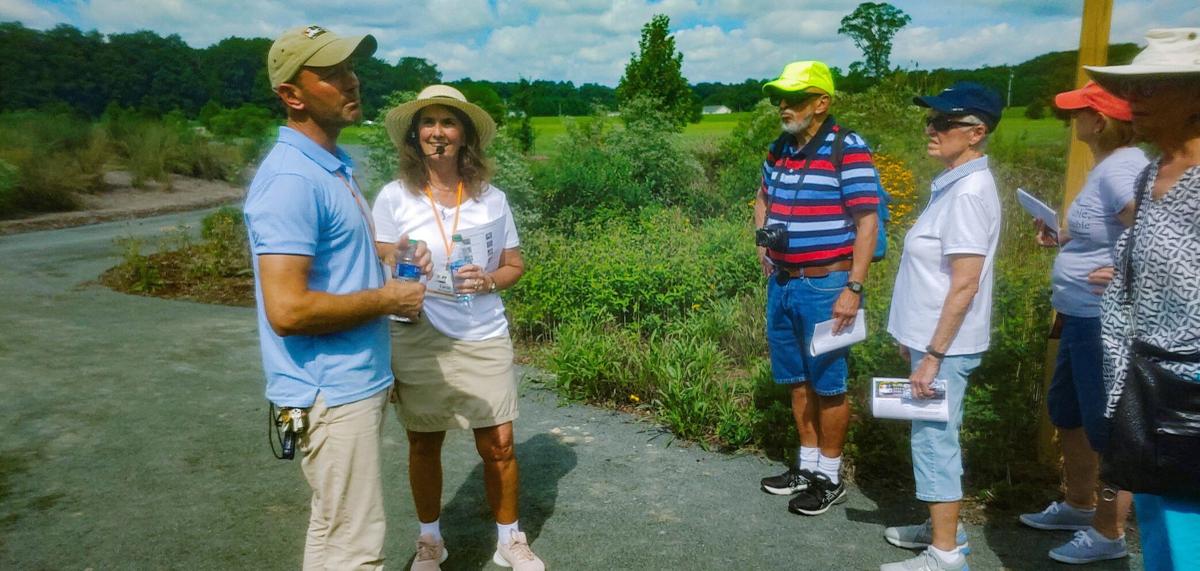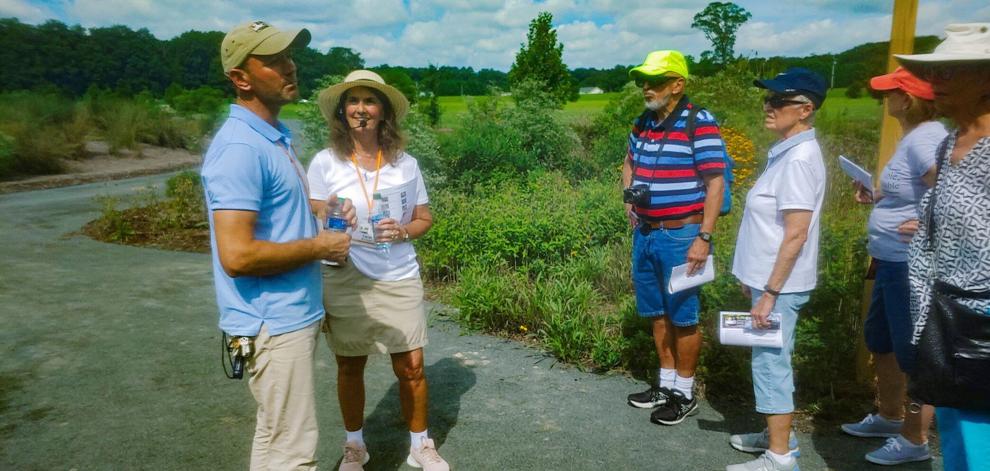 Listening to Stephen Pryce Lea describe flourishing plants, the wonder of nature, brings to mind Henry David Thoreau's journal entry from August 1851: "The question is not what you look at, but what you see."
The director of horticulture at Delaware Botanic Gardens in Dagsboro sees enchantment, beauty, on the former soybean farm that is being developed into a masterpiece.
"I get here at 7 every morning. There's a slight mist across the gardens, and to see the finches and bluebirds eating from the meadow and nesting in bird boxes or in the trees — it's absolutely something magical. The foxes that use the woodlands…" he said.
"A garden like this is about natural balance. We have to create that natural balance. As I've grown and as I've learned, I know you have to adjust to a more environmental kind of gardening and not use chemicals. We really do not need to be supporting these chemical companies. I absolutely hate that stuff. Every time I see it on a shelf, I cringe."
A native of Wales, Pryce Lea was born on a small livestock farm he described as a ranch of 20, maybe 30, acres. Realizing agriculture wasn't capturing his interest — and knowing it wasn't very profitable in the mid-1980s and early 1990s — he developed an interest in horticulture and completed an apprenticeship with National Trust for Places of Historic Interest or Natural Beauty in the United Kingdom.
He earned a bachelor's degree in horticulture from Lancaster University in northern England.
Formerly employed by the Philadelphia Zoo, he took over as horticulturist at the Delaware Botanic Gardens in March this year and was quickly promoted to director of horticulture.
His plans include bringing more plants into the collection as he continues in the role of "managing the team of volunteers that comes in to do the ongoing maintenance of the garden."
"I have been brought in to help manage and develop the meadow," he explained. "It really needs a development plan and a strategy. It won't just take care of itself. It's a huge role I am able to embrace and share with volunteers — and some of them have been here many years and are passionate about the meadow.
"I am very much plan-based," he added. "I have had the opportunity to work all over the world, and more recently here in the United States, so I am bringing that skill set to this garden to develop volunteers and employees.
"That plan includes training the volunteers," Pryce Lea said. "They are passionate, but they have to develop the skill set so that we can continue to not only manage what we have, but develop new areas. Right now, it is subject to budget, but also subject — when money becomes available — to developing new areas. We need to be able to do that — not only to create gardens, but how are we going to take on that extra work and maintain areas of the garden? How can we manage this garden with the resources we have, and how can I train a team so we have those skills?" he said.
The work of a horticulturist, overseeing volunteers and employees, involves being able to withstand all types of weather, identify plants and weeds at different stages and be able to tell plants from weeds. There is pruning to do, as well as dividing and caring for plants throughout the year. There are thousands of kinds of plants in the garden, including grasses, trees, perennials and shrubs.
When all 37 acres of the Botanic Gardens are fully developed, "Then we are talking about a million plants, plus those that propagated and matured on their own," Pryce Lea said. "It's a continual process of the plants growing and spreading, with some losses we have to account for," he added.
Including the woodland, about half of the Botanic Gardens are now developed.
"We have under 20 acres left to go. In the woodland, you can walk the pathway, and it is accessible. The west side is relatively new. We are relying on native plants or wildflowers and ferns since we opened the tree canopy and let light in. Our trees are very much cherished here. Dead wood is valued and often is left. More often we are planting new trees than removing old ones. Occasionally, we will have to remove a dead one, but along with the Delaware Federation of Garden Clubs, we are able to collect funds people donate to allow us to plant new trees in the woodland," he said.
Trees are not removed to make space to plant flowers or carve pathways.
"We don't clear trees to create gardens. My strategy is finding the right plant for the right place. Rather than removing trees or removing soils, we are working with what we have — and that's where this garden differs, because of the focus on the natural," he said.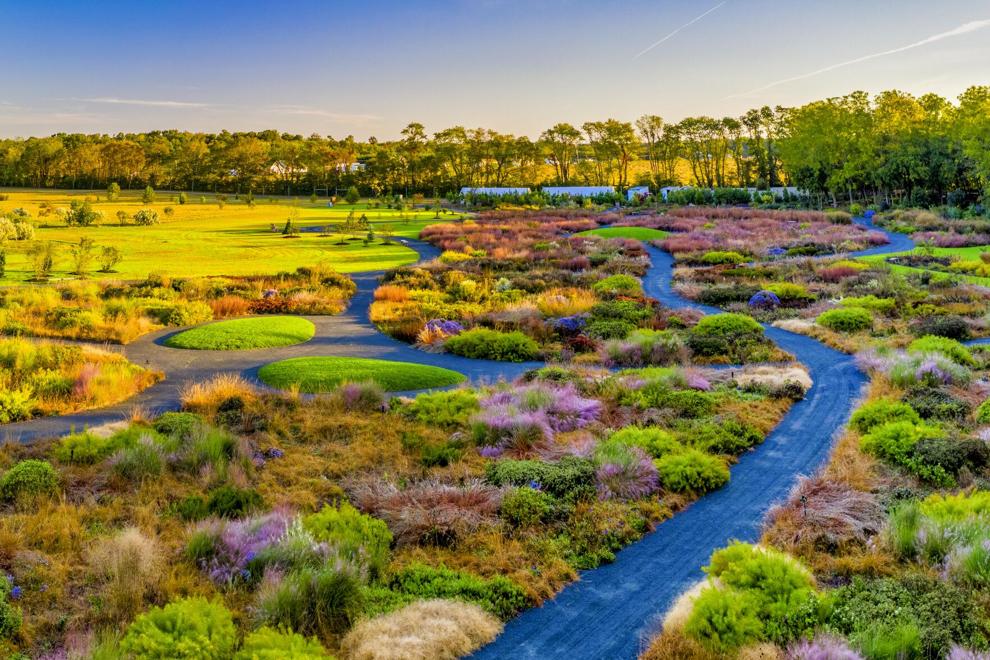 Anyone interested can learn how to maintain a fall garden, retain essential habitats, and provide food and shelter for beneficial insects and wildlife during the dormant season at classes planned for 11 a.m. on Friday, Oct. 15, and at 11 a.m. on Friday, Oct. 22. Register at www.delawaregardens.org.
The informal sessions will include a tour of the meadow and will, with what Pryce Lea called "a casual chat," explain how the staff manages and takes care of plants and why they don't cut plants back until the end of February.
Collecting seeds, the power of pollinators and an overview of the importance of bees, ladybugs and praying mantises, and why gardeners should not spray or heavily mulch, will be explained.
"If you work with that balance, nature will work with you. I think now I'm getting a better understanding of what we want to achieve," he said this week as he looked out over the garden.
"I have seen spring to fall. Now I want to embrace how to build and get design integrity in the meadow. Certain plants we've lost, and now I have a better feel for it. In 12 months, I would like to be able to look at the meadow and say, 'We have captured what the original designer had in mind.' The designer created a garden, but the challenge is to be able to manage and create that garden. I want to see it grow, improve upon it, make some conscious decisions," he said.
Portions of the Delaware Botanic Gardens were designed by Piet Oudolf, a renowned Dutch garden designer whose triumphs include New York City's High Line, an elevated park on a former New York Central Railroad spur on the west side of Manhattan.
Pryce Lea and Oudolf are in touch regularly, and Pryce Lea said he asks Oudolf questions such as, "This plant hasn't done so well in the past. Do you have alternative?" He was delighted when Oudolf approved planting spring bulbs in the gardens' meadow.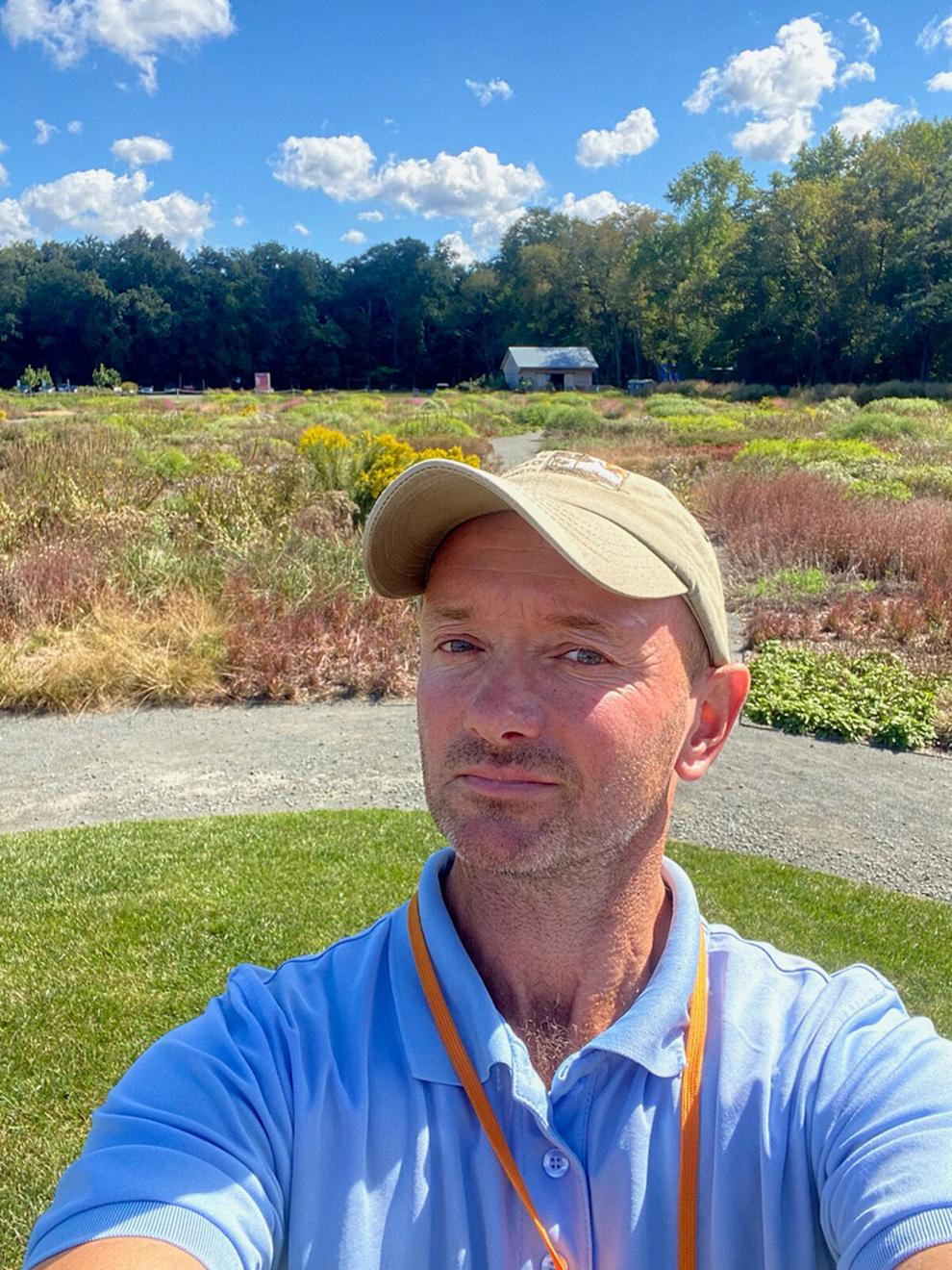 "That's a big deal. We have been wanting to do that for some time. We are going for crocus, natural tulips. In November and December, we, our volunteers — and we are inviting new volunteers — will plant 85,000 bulbs," he said.
Last year, flowering bulbs were in the Welcome Center, but not in the meadow. Originally, the garden was designed without bulbs, but once Oudolf started incorporating them into some of his newer designs, Pryce Lea contacted him and asked why they were absent from the Delaware Botanic Gardens.
Oudolf, Pryce Lea, said, is his idol, and he admires the way Oudolf placed a heavy focus on grasses at the gardens.
"Guests say, 'Where are the flowers?' but this garden is based on grasses and late fall-season color, predominantly grasses. I tell our guests, 'You need to come at least three or four times a year,'" Pryce Lea said.
In an article for the Delaware Botanic Gardens' newsletter, he explained that Oudolf had selected a full-sun location for the gardens, and had included 85 percent native perennials and grasses, as well as 15 percent non-native pollinator-compatible plants "for extended season and pollinator interest."
The meadow, he said, is "laid out as an infinity design, with 10 large beds in irregular shapes and curved gravel paths or lawn running throughout the meadow."
"There are three distinctive sections — lower, middle and upper — all with a different feel and planting palette. Designed in 2016, it took 70,000 plants and two years to complete planting. Piet's passion for perennials and love of grasses is evident throughout the natural meadow design featuring a large number of regionally native plants, nativars and non-natives. The meadow is a fine example of how Piet's influence has transformed the perennial movement worldwide and the way we garden with nature today," Pryce Lea wrote.
Plants in the Meadow Garden are three or four years old, with many now filling the allotted space.
The Rhyne garden, Learning Garden and Inland Dunes areas are not part of Oudolf's meadow design but "areas that focus on educational elements for these types of endangered and poorly-used gardens," Pryce Lea explained.
"The Rhyne is our very own designer ditch, with an array of native cultivars that provide long-season color and seasonal interest for wildlife and guests, whilst playing an important role in purifying storm water pollutants from the car parking area. The Learning Garden is a freshwater pool that demonstrates the lifegiving power of pools. The plants and animals that depend upon them provide a wonderful contrast to the dry garden areas that surround this life-sustaining oasis. Inland Dunes were topographic features created on the Delmarva Peninsula as the ice sheets receded. Over the eons, the Inland Dunes have been lost due to natural erosion and cultivation. Adding reconstructed Inland Dunes to DBG was a way to remind our guests of the special sense of place we find ourselves on Delmarva," he wrote.
"I fell in love with the Garden within the first few days," Pryce Lea said in conversation.
"Because of the pandemic, I was interviewed for this position on Zoom, so I didn't get to see the garden until I got here. They couldn't turn the computer around and show it to me, because they were all interviewing me from their own homes," he said.
Other horticulturists have preceded Pryce Lea in the role at the Delaware Botanic Gardens, and he said he holds them in high regard.
"The way I look at it is a garden has to progress," he reasoned.
"It goes through different phases and different leadership. We can be here as long as the garden needs us. Those guys did an amazing job. It was time for them to move on in different directions. Now, it's my time."
https://www.coastalpoint.com/lifestyle/pryce-lea-s-horticultural-expertise-blossoming-at-delaware-botanic-gardens/article_f40d1d5c-261b-11ec-9bdf-2b40576929dc.html