Six Tips to Make a Party Go Smoothly
4 min read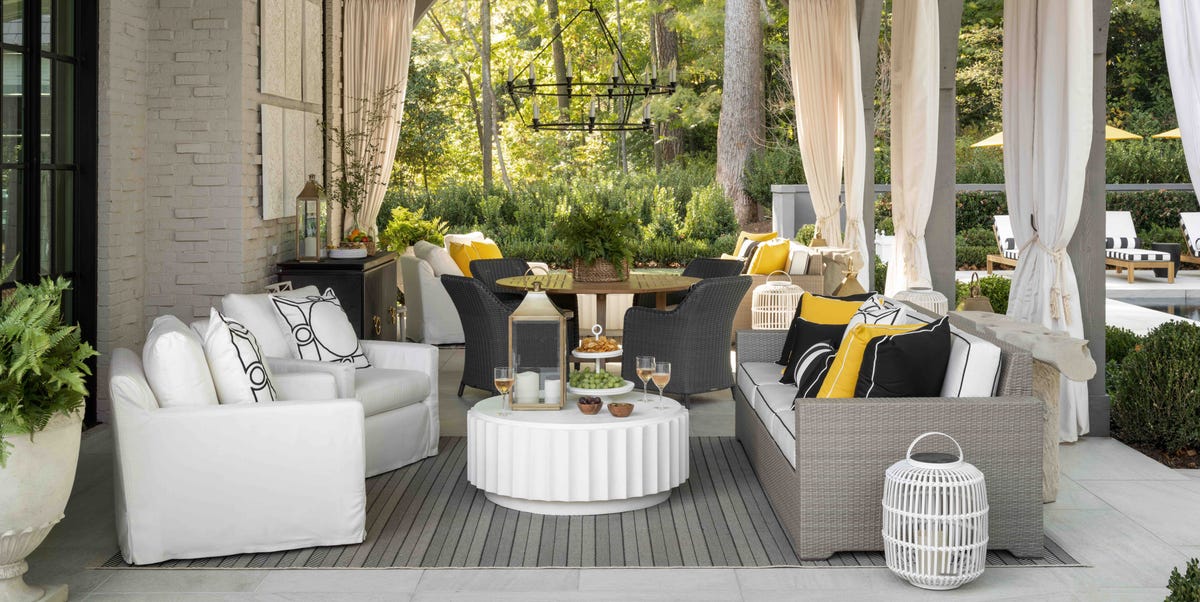 As a guest, you know the best parties are the ones that seem effortless. Friends swirl and socialize, delicious food materializes … it all comes together like magic. As a host, you know that so-called magic is actually the product of work and planning, and it starts long before the event is being imagined—by setting up a household that's conducive to entertaining. At the 2022 House Beautiful Whole Home, the party-ready space comes courtesy of a team of visionary designers and a selection of high-performance appliances and versatile furnishings. If you're looking to turn your home into a space that makes entertaining easy, here are six tips that do the trick:
1. Create Multiple Conversation Groupings
The Whole Home doesn't lack for square footage (we're talking 11,000 feet or so), yet it feels intimate and personal because of thoughtful layouts and careful furniture placement. Take the back patio (pictured above), with its several seating areas, all of which encourage conversation and conviviality. When you're planning to entertain, don't hesitate to rearrange your furniture. A spread-out arrangement that works for a family day to day can benefit from being more closely grouped to enable guests to connect more easily.
2. Build In More Prep Time Than You Think You Need
It's classic advice, but it truly does make your job as host easier if you've prepped the food ahead of party day. In the Whole Home kitchen, getting a head start is a breeze with Signature Kitchen Suite's 48-inch French Door Refrigerator, which has enough capacity to accommodate even the largest trays of canapes or charcuterie. What's more, the fridge's convertible drawers let you select from five temperature zones, so you can decide whether you need that space for chilling wine, keeping hors d'oeuvres at the right temp, or even acting as a freezer. A bonus for the mixologist in the house: The dual ice maker delivers both standard cubes and slow-melting, spherical craft ice for cocktails.
3. Assume Guests Will Gather in the Kitchen
It's inevitable: Even if you've placed the bar halfway across the house and staged food stations in multiple other rooms, there will always be a small crowd that follows you into the kitchen and settles in for the evening. Take it as a compliment! Anticipating that very scenario, the designer of the Whole Home kitchen created a workhorse scullery and adjoining pantry just off the main kitchen area, providing a place for dirty dishes to be whisked out of guests' sight and straight into the built-in SKS PowerSteam Dishwasher. It's among the quietest on the market, so partygoers won't even realize there's cleaning going on behind the scenes. No scullery? No problem. Just clear off an area of your breakfast table, kitchen island, or countertop so the friend who likes to chat while you set up a tray of treats has a place to park her glass.
4. Accommodate the Kids
If you're including the younger set in your festivities, make sure there's a dedicated area for them to hang out. Since kids are guaranteed to gravitate toward the TV, the Whole Home's super-comfy media room features undercounter refrigerator drawers stocked with kid-friendly drinks and snacks they can help themselves to.
5. Pretty Up the Powder Room
After all, it's the one place virtually every guest will see at some point during the party. A vase of flowers or a fragrant candle is a nice touch, and make sure the room is stocked with everything needed to handle all that traffic: a full soap dispenser, stacks of hand towels, a wastebasket in an obvious place… you know the drill. It sounds basic, but powder room prep is easy to overlook, and no partygoer wants to have to hunt down the host to ask where the extra toilet paper is.
6. Let Guests Discover a Surprise or Two
Every home has its special little corners. In the Whole Home, one of them is this whimsical wine room, tucked away near the kitchen. Partygoers who take a break from mingling to explore a bit will be rewarded when they step into this jewel box of a space, with its extravagant wallpaper, brass serving area and Signature Kitchen Suite's wine columns. (One further surprise is in store if those guests get close enough to inspect the collection: A tap on the door instantly illuminates the columns' contents.) If you're not an oenophile, do your guests the favor of filling an out-of-the-way nook with a collection of whatever it is you're passionate about—bookshelves filled with your favorite reads, a gallery of artwork or family photos above the stairs, souvenirs from your travels lining a table in the foyer. And make sure whatever you're showcasing is lit well enough to be seen at its best.